Lizzy Yarnold wins gold medal at World Cup in Calgary
By Nick Hope
BBC Olympic sports reporter
Last updated on .From the section Winter Sports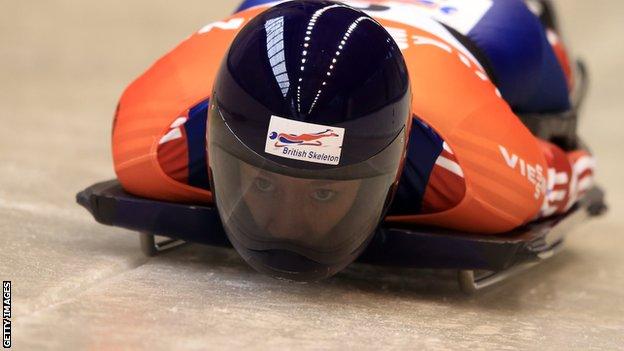 British world junior champion Lizzy Yarnold has won the season-opening skeleton World Cup race in Canada.
Yarnold, 25, finished second but was elevated to first when American Noelle Pikus-Pace was disqualified after her sled failed a post-race inspection.
Team-mate and 2013 world champion Shelley Rudman, 32, moved up to fourth.
In the men's race, Britain's Dominic Parsons finished third, behind winner Martins Dukurs of Latvia and Alexander Tretiakov of Russia.
Parsons becomes the first British man to win a skeleton World Cup medal since veteran Kristan Bromley claimed bronze at Lake Placid in December 2010.
The 26-year-old said: "I don't know how I did that, but I hope I can do it again."
Yarnold led after the first of two runs in Calgary, but Pikus-Pace was quicker on the final run and crossed the finish line in one minute 54.88 seconds, 0.16 quicker than the Briton.
However, a post-race inspection by the International Bobsleigh and Skeleton Federation [FIBT] discovered an 'illegal' piece of tape wrapped around the handle of Pikus-Pace's sled.
"I'm really pleased, a good start to my first Olympic season," said Yarnold.
"It feels like it has been a long preparation and I am so grateful to our support team who have got us here in this shape."
The tape, which could aid an athlete's grip on the sled, had allegedly been cleared earlier in the week by international sliding officials.
On her Facebook page, Pikus-Pace insinuated British Skeleton had made the protest, however a team spokesperson denied this.
"My heart is broken. I just won gold in the first World Cup and have been disqualified due to a protest," she wrote.
"My sled was cleared by the international federation for competition but, without a warning, they disqualified me for having three pieces of tape on my handle to help me push my sled, which many athletes do.
Pikus-Pace continued; "So sad and disappointed that thousands of hours of training come down to a protest and decision for three pieces of non-performance-enhancing tape. I would have obviously removed it if they had told me in my sled inspection."
Russian Elena Nikitina moved up to second, with Australia's Michelle Steele third.
The athletes will now travel to the USA for the second World Cup of the season in Park City, Utah, 2-7 December.