Euro Curling Championships: Scots end round-robin undefeated

By David McDaid
BBC Scotland in Stavanger
Last updated on .From the section Winter Sports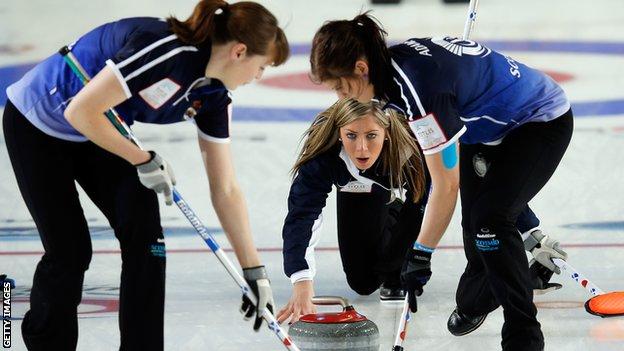 Eve Muirhead says Scotland's perfect nine wins from nine record in the round-robin in Stavanger puts down a marker going into the Winter Olympics.
Her rink topped the standings at the European Curling Championships after thrashing Switzerland 13-3 with three ends to spare on Thursday.
They meet again on Friday to determine who goes directly into the final.
"I can't remember going unbeaten in a round-robins before, so it really does mean a lot to us," said skip Muirhead.
"It really stamps down a marker, not just for this tournament but going to the Winter Olympics in February, that we really are really firing for the top."
Scotland will play from 12:00 GMT on Friday in the first versus second play-off against Mirjam Ott's Swiss, with the winner of that progressing directly to Saturday's final and being guaranteed at least a silver medal.
They would have played their match on Thursday evening but for a tie-breaker between the defending champions, Russia, skipped by Anna Sidorova, and Lene Nielsen's Danes, for the right to play Maria Prytz's Swedes in the third versus fourth game.
The 1v2 and 3v4 matches must take places simultaneously and no team can play more than twice in one day.
All teams have already played one game on Thursday morning.
"It's going to be good to have a night off," Muirhead told BBC Scotland.
"We were maybe going to be playing tonight, but they can keep scrapping while we'll have a nice, relaxing night."
The convincing round-robin win over the Swiss ended with the Scots scoring five, prompting Mirjam Ott's rink to concede the match early.
"I'm really delighted with that win," said Muirhead. "We all played so well, there's lots of support going on for each other.
"We played our usual aggressive game and, if we play like that, it's hard for any team to keep up with us.
"We really showed that we are the strongest team in the round-robins.
"If we can just keep that going, it's going to be a tough game for Switzerland tomorrow."
Despite their excellent form so far and finishing top of the round-robin standings, it is still conceivable that the Scottish women could finish without a medal of any colour.
If they were to lose their 1v2 match, they would then have another chance to reach the final by playing against the winner of the 3v4 game in the semi-final match.
The loser of that subsequent match goes to meet the loser of the 3v4 game in the bronze medal match - with the defeated team going home empty-handed.
"It's been really, really good so far with nine wins from nine games," said Muirhead.
"But we know we have some crucial games to come, so we just need to keep the head and keep focused."
Meanwhile, England, skipped by Anna Fowler, finished third behind Finland and Estonia in the B Division after winning six of their nine matches.
A Division Standings
1. Scotland 9-0
2. Switzerland 7-2
3. Sweden 6-3
4. Denmark 6-3
5. Russia 6-3
6. Czech Republic 4-5
7. Latvia 3-6
8. Germany 2-7
9. Norway 1-8
10. Italy 1-8