Euro Curling Championships: Scotland miss out on semi-final

By David McDaid
BBC Scotland in Stavanger
Last updated on .From the section Winter Sports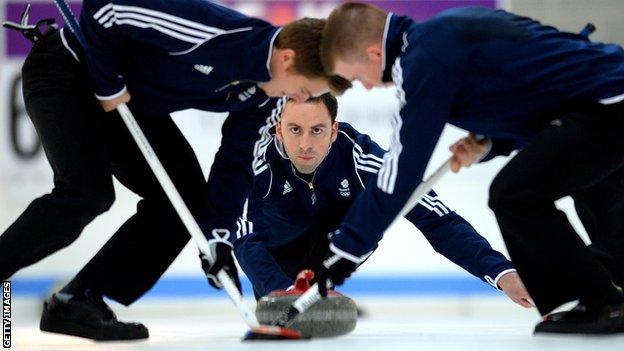 Scotland's men missed out on a place in the European Curling Championships semi-final after losing to Denmark.
David Murdoch's rink were 5-4 ahead after seven ends but went down 6-5 in Stavanger, Norway.
The host nation, whose only round-robin stage loss came against Scotland, made it to the final with a 7-4 success against Switzerland.
The Swiss will now play-off against the Danes for a final place, with the Scots waiting in the bronze medal match.
Murdoch, a three-time European champion, had lost his tournament opener to Denmark but picked up form as the week progressed, losing just one other match in the group phase.
And the 35-year-old from Dumfries was frustrated to lose out to the Danes again after taking a tense encounter to the final stone.
"We feel pretty hard done by," he told BBC Scotland. "I think we were the team to beat this week and we completely controlled that game.
"We ran the game like we wanted to - we had the last stone in the last end and we just weren't precise with our shots in that last end."
Murdoch has a European silver and bronze to go with his three golds and he is anxious to add to that collection.
"We want that bronze medal," he added. "It would show we've had a decent week.
"Nobody likes to finish fourth, so we'll be up for that one.
"We'll talk as a team and see where we went wrong but it was just those couple of shots at the end so we don't have to be too hard on ourselves.
"We know there is a big picture this season (Winter Olympics) and these performances will stand us in good stead."
Scotland's women, skipped by Eve Muirhead, are unbeaten in Stavanger and meet Switzerland in the 1-2 play-off on Friday.
Meanwhile, England, led by Alan Macdougall, finished second in the B Division Yellow behind Germany with a 5-2 record.
Wales, skipped by Adrian Meikle, finished fourth in B Division Blue with a 4-3 record behind winners Hungary.
A Division play-offs:
Norway 7-4 Switzerland
Denmark 6-5 Scotland
A Division round-robin standings:
1. Norway 8-1
2. Switzerland 7-2
3. Denmark 7-2
4. Scotland 7-2
5. Sweden 5-4
6. Russia 4-5
7. Czech Republic 3-6
8. Latvia 2-7
9. France 1-8
10. Finland 1-8