Jamie Barrow: Snowboarder sets world indoor speed record
Last updated on .From the section Winter Sports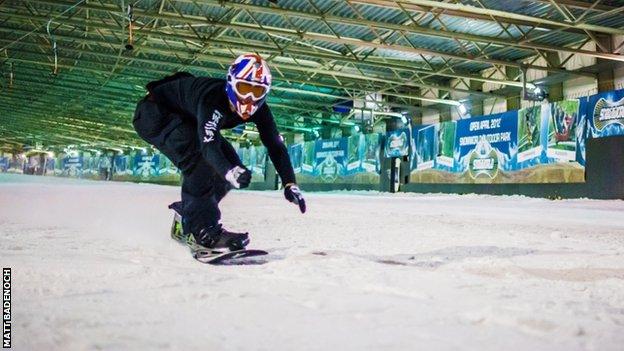 Bath's Jamie Barrow has set the first official world indoor snowboard speed record after reaching 69.4 kilometres per hour in Landgraaf, Netherlands.
The 21-year-old achieved the feat at SnowWorld - the world's biggest indoor snowdome with a 520-metre-long slope.
"I'm really happy with the result, as I had no idea how fast we could go inside," he told BBC West Sport.
Barrow claimed the British outdoor speed record earlier in the year - clocking 151.6 km/h in Switzerland.
"It wasn't as scary as the previous record as the speeds we were hitting were a lot less, but it did have it's own risks," he continued.
"It brought everything out of me in terms of technique, as I had to get as streamline as possible to get it right. If you made one tiny mistake it would make you go slower."
Former Team GB competitor Barrow is now hoping another competitor breaks his record, so he can re-visit the record himself.
"It's good to encourage other competitors and I'm sure someone is going to try it," he said.
"It's not really right for me to try and beat my own record but hopefully someone else can do it so I can then beat their speed."