Chemmy Alcott to train with Norwegian World Cup team
Last updated on .From the section Winter Sports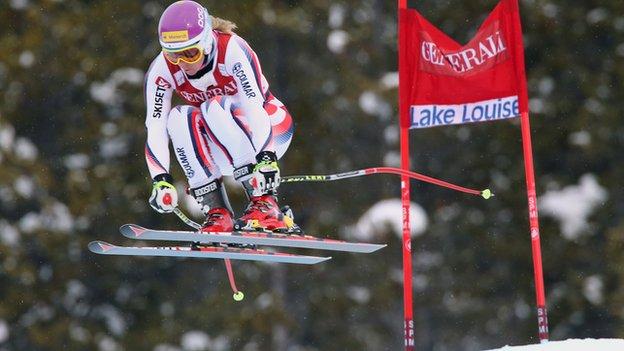 British downhill skier Chemmy Alcott will train with the Norwegian World Cup Tour team in the build-up to next year's Winter Olympics in Sochi.
She will compete with the Norwegians at World Cup events but will line-up for Team GB at the Olympics.
She told BBC Sport: "I would never ever leave my country, this is just the strange situation to get there."
Alcott lost her funding in 2010 after a decision by UK Sport to remove all support for alpine skiing in the build-up to Sochi 2014.
As a result she has spent the last three seasons training with the Canadian team but will be working with Norway this year, where she will link up with their head coach Stefan Abplanalp, who she has known for 14 years.
She will also gain use of their support staff such as physiotherapists and technicians.
Alcott has had to raise sponsorship to fund her training since a broken leg saw her miss the entire 2011-12 season.
But by training with another team she only has to raise enough to pay her share of the costs, a figure which she estimates to be around £70,000, as opposed to the £250,000 she would have to raise to fund her own programme.
She said: "I used to get really bitter and it used to make me really sad that I was ranked eighth in the world and not getting any money from UK Sport but I've got used to it now.
"This is my last Olympics and it could be my last season skiing. I've got a lot to prove and I don't want to waste any energy on fighting the system anymore.
"So I'm just going out there with my head down and my focus on achieving my best result ever at Sochi. That's the aim and always has been."
Alcott will join up with the Norwegian team in Switzerland in July to begin training, having recovered from an injury she sustained in training in March.