Ed Drake targets ski cross Olympic medal in Sochi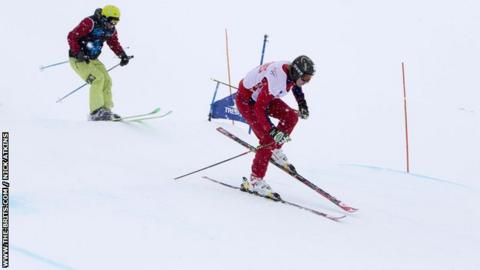 Vancouver Olympic alpine skier Ed Drake believes switching to ski cross will enable him to qualify for a second Games and potentially win a medal.
Drake, 27, changed disciplines in January and, although he failed to finish his first two World Cup races, ended the season as British champion.
"With ski cross, once you get into the top 32 then literally anything can happen," Drake told BBC Sport.
"I want to podium there, and I want to get results I know I'm capable of."
In order to reach the 2014 Winter Olympics in Sochi, Drake needs to record three top-32 finishes in the remaining five World Cup races before the qualification period ends.
His highest ranking to date is 51st, but the skier is confident that with a strong summer of training he can achieve his ambitions.
"There is no reason why I can't [win a medal]," said Drake. "I've got good skill, pace and my speed up until now has been great without any sort of training."
"It [qualifying] feels so realistic and it's a really exciting time."
The skier, who competed in downhill, giant slalom, super-G and the super combined at the 2010 Vancouver Olympics, with a highest finish of 29th, was initially planning to continue with his alpine campaign at the same time, but quickly realised that was not going to be possible.
"I've said goodbye to my alpine days at the moment - you can't do two things," stated Drake.
"You have to focus on one - it's really difficult to try and spread yourself across the two and there's a danger you'll end up not doing it [qualifying] in either."
Drake made his World Cup debut in Megeve, France, and admits it's been a steep learning curve after promptly crashing out after hitting a gate soon after the start.
"It is totally different [to alpine skiing]," said Drake of ski cross, which made its Olympic debut in 2010.
"My background is doing things on my own and being where I want to be and then you have to get used to people flying around alongside you.
"The jumping is different, I've done downhill jumps all of my life but there are lots of different types of jumps and terrain you have to overcome as well.
The physicality of the sport is something that has surprised Drake, who is hoping the installation of a new start gate at his UK training base in Hemel Snow Centre will aid his progress.
"The start was really difficult," said the British champion. "In alpine you have a window and you start the clock when you're ready, but in ski-cross your skis are up against the gate, you start trying to move as soon as it opens and then there's all of the pushing.
"You need to be strong and fit for endurance like with alpine, but there's a bit more upper-body importance with ski cross because of the fact you're up shoulder to shoulder with other guys at the start gate and you have to stand your ground in the ski scrum heading into the first corner."
British Ski and Snowboarding was awarded £584,300 by UK Sport for their freestyle disciplines in the run-up to Sochi 2014, but alpine and ski cross has received no support.
"It's all still self-funded," said Drake who feels he can finance travel and entry to each of the remaining Olympic qualification events, but is seeking support for training camps abroad over the summer.
"I'm hoping to team up with American Joe Swensson who I used to ski alpine with, he's become very successful at ski cross, switching two years ago.
"In ski cross, because most of the time you're skiing with, alongside or behind someone, there's a lot you can pick up from just skiing with good people."
New Zealand, Australia and several venues in South America are regular destinations for skiers during the northern hemisphere's summer months. Although his funds are limited, Drake could look to utilise the high altitude glacier resorts in Austria or Switzerland.
His first of five World Cup and Olympic qualification events will be in Canada in December.