World Curling Championship: Scotland open with a victory
Last updated on .From the section Winter Sports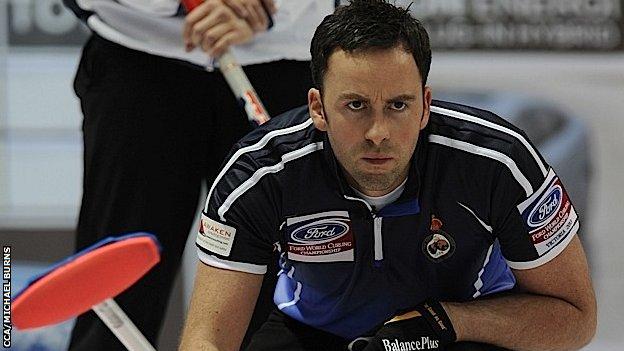 Scotland made a winning start at the World Men's Curling Championship in Victoria, Canada, beating Japan 7-5.
David Murdoch's rink took an early lead with two single steals and a score of four points in the fourth end.
The lead was reduced to 6-2 when rival skip Yusuke Morozumi drew for a single point.
But, in the eighth end, Murdoch had an accurately-weighed draw to score one point on the way to what was a comfortable victory.
"One of the things we talked about was that we really wanted to start with a solid couple of games," said Murdoch.
"If you've got any hope of trying to get into that 1-2 game, you need to start well. We've got that first win and it's a nice way to start."
Murdoch, a world champion in 2006 and 2009, lost the 2005 final at the same venue.
"It's hard to believe it was eight years ago, and I loved every moment of it," added the 34-year-old from Dumfries.
"It's so good to be back. I just love this town."