Craig Pickering targets Sochi, Glasgow and Rio Games

By Nick Hope
BBC Olympic sports reporter
Last updated on .From the section Winter Sports4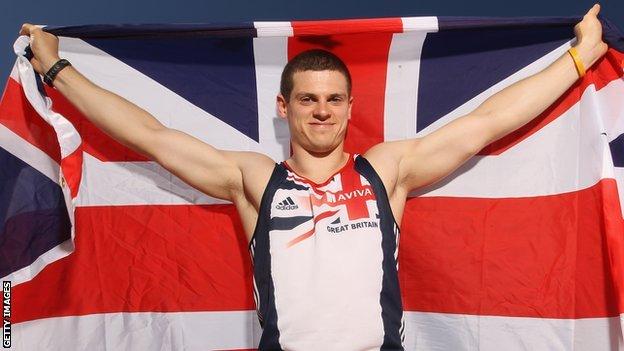 Great Britain sprinter-turned-bobsleigher Craig Pickering is aiming to compete in the Winter Olympics and Commonwealth Games next year.
"I am aiming for a Sochi and Glasgow double," Pickering told BBC Sport.
"I have never done a Commonwealth Games and, having missed the London Olympics, it will be a good chance to compete at a home major championships."
He added: "Long-term it would be a massive achievement if I could reach Rio and then [Pyeongchang] 2018 - it's certainly something I'm looking to do."
The Beijing Olympic sprinter, who missed London 2012 after requiring back surgery at the beginning of last year, is targeting a return to the track at the Loughborough International meet next week.
The former 60m European silver medallist finished 19th in two-man bobsleigh alongside John Jackson in January's World Championships.
He feels continuing with a full summer season of athletics will in fact aid his bobsleigh training and believes that with the right preparations he can help the team win an Olympic medal in Sochi next year.
"The main reason for being in the two-man was to learn a bit about the sport without the pressure of being in the four-man," said Pickering.
"My aim for the next 12 months is to be part of the four-man though and win a medal at the Winter Olympics which I think is very possible because they are so close to the best in the world."
Pickering, who is also targeting a place in the GB 4x100m relay team for this summer's World Championships in Moscow, continued: "I'm good at bobsleigh because I'm good at athletics.
"So it makes sense to keep doing that and trying to get quicker because that will help me on the ice next season."
The four-man team of Jackson, Stuart Benson, Bruce Tasker and Joel Fearon finished an agonising seven one-hundredths off the podium at the 2013 Worlds.
"We knew Craig could integrate and that's why we were hunting him down for the last year because we know the potential this man has," said GB performance director Gary Anderson.
"It's going to be difficult for him to break into our four-man squad but we want him to put pressure on the three breakmen that we have and competition for places means everyone has to work hard."
Although initially sceptical, GB coach and former pilot Lee Johnston has also been impressed with Pickering's progress.
"Craig has surprised me a little bit because when we first met him my personal view was 'oh here we go, another sprinter coming to have a go' like a few have in the past," said Johnston.
"Actually I've seen a massive change in Craig, he understands what he has to do and he's changing the way he pushes the sledge and, although he still has huge amounts to learn, with a full pre-season he'll be in great shape to push on for the squads."
Although he enjoyed a rapid rise to the competition squad, just weeks after switching sports, Pickering has confessed that the transition has not always been straight-forward.
"A misconception is that pushing a bob is just running very fast with it - it isn't," said British starting coach and performance manager Chris Woolley.
"Craig is an intelligent guy and understands what's going on and he now has the task of changing a lot of what he used to know about sprinting and adapting it to put more emphasis behind the sled."
Pickering admits missing London 2012 and his subsequent UK Sport funding loss prompted his move to bobsleigh but feels any negatives have fuelled his ambition for future success.
"Not competing in London was hard, but at least I was able to run in Beijing so that made things a bit easier," he said.
"I've had to try to turn it into a positive and Sochi is a really big target for me because when I'm finished and I look back on my career I want to have Olympic medals."