Skeleton World Cup: Shelley Rudman's La Plagne worry
Last updated on .From the section Winter Sports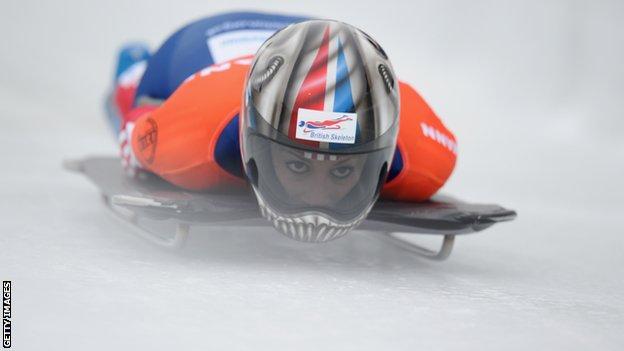 Shelley Rudman says she is not expecting to claim a second gold medal at the World Cup event in La Plagne.
She goes into Friday's fourth round event at La Plagne sitting fifth in the overall standings.
But Rudman told BBC Wiltshire: "I'm not too confident. This track and Whistler are the ones I find quite difficult."
The 31-year-old continued: "I got thrown about the track in training, which was interesting, but if I can start making up time in each training session and drive the track better each day then I'll be happy on race day."
Rudman had a shaky start to the World Cup and missed out on a podium place in her first three races at Lake Placid, Park City and Whistler.
But she returned to form in Germany, setting a new track record and claiming her first medal of the campaign.
"It was a relief to know that I can slide really well when I need to and everything can come together," she added.
"You can have off-days and good days and that happened to be a good day for me.
"I can make quite a big jump between performances. I was quite unbeatable on that day but I've still got to keep my feet on the ground."