Scots women lose to Russia in Euro Curling Championships final
Last updated on .From the section Winter Sports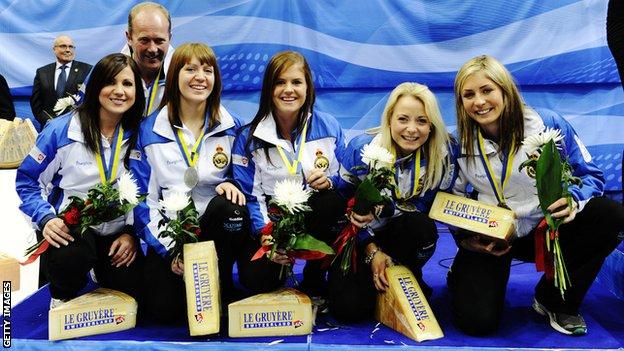 Defending champions Scotland have lost to Russia in the European Curling Championships final in Sweden.
Despite having the hammer throughout, skip Eve Muirhead's rink were tied 5-5 at the end of the tenth end.
And Anna Sidorova's team, who took single points consistently through the match, scored a crucial point in the extra end to win the title.
"It wasn't our best performance, we've played better this week," admitted Muirhead.
"We just missed one or two slack shots here and there, but they played well."
"The last end could have gone either way - their second made a fantastic double and took out one in the house too."
The Russians took an early lead in the first end before Muirhead played a two-point draw in the third.
Sidorova levelled in the next end and then went ahead with another single steal in the fifth end.
Another double from Muirhead gave the Scots a 4-3 lead in the sixth, but two steals in the seventh and ninth ends put Sidorova in the driving seat going into the final end.
Muirhead scored a point in the tenth to take the match to an extra end, but the Russians had last-stone advantage, and used it to clinch their country's second European title.
Muirhead had got the better of hosts Sweden in the first versus second play-off to reach the final.
Sweden later lost their semi-final to Russia.
Scotland's men finished their disappointing campaign on Wednesday with a victory over Hungary to finish seventh.
Skip Tom Brewster saw out a 6-5 win against the section's bottom team to leave his rink with a record of four wins from nine.
The Scottish men were dogged by illness, but at least they will be among the eight European teams in the draw for the World Championship in Victoria, Canada.
Brewster said: "Qualification? That's great, but ultimately we didn't come here just to do that.
"We came here to win medals and we're disappointed we're not in the play-offs."