Maria Hoefl-Riesch against women competing against men
Last updated on .From the section Winter Sports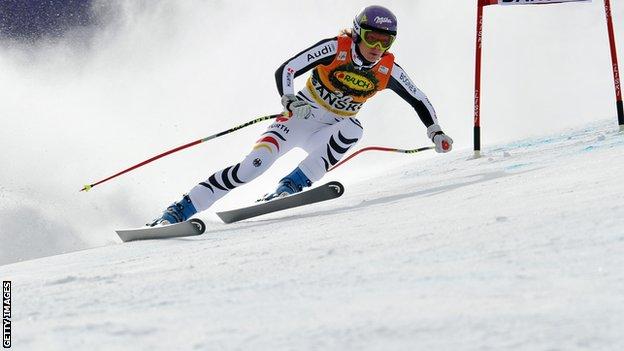 Downhill skier Maria Hoefl-Riesch says she does not think men and women should be allowed to compete against each other at any sporting event.
One of her main rivals, Olympic champion Lindsey Vonn, recently said she wanted to race against men at November's World Cup meeting in Canada.
But Hoefl-Riesch thinks some of the skiing courses on the men's circuit would be unsuitable for women.
The 27-year old German said competing with men "doesn't really make sense".
Two-time Olympic champion Hoefl-Riesch was speaking to the BBC about Vonn's request to compete against men.
She said she thought American skier Vonn wanted to "use it as more training before the women's race" at Lake Louise.
The men's downhill race will take place on 24 November, six days before the women's.
International Ski Federation (FIS) rules limit competitors' training time on slopes used for competitions.
Concerns had been raised by some athletes that mixed-sex racing would devalue the women's tour, but Hoefl-Riesch said she couldn't see a time where women would compete against men in general competition.
In any case, she said, it wasn't "a good idea in any sport".
While she said it would theoretically be possible for women to race on the men's course at Lake Louise, other courses like Kitzbuhel and Bormio would prove too challenging as "most of the men have problems with big crashes and accidents, so it's probably not a good idea".
Britain's top female alpine skier Chemmy Alcott told BBC 5 live that it would take years for another skier to emerge as strong as Vonn.
And she acknowledged the American's ability by saying that if a vote was taken on the women's tour as to who they would want to try to compete against the men, "100% would say let's have Lindsey".
Hoefl-Riesch is seen as Vonn's main competitor on the World Cup circuit and ended the American's run of three World Cup overall titles in 2011 when she won in highly controversial circumstances.
On whether Vonn had a realistic chance of winning in the men's sport, Hoefl-Riesch said she would be competitive but "probably wouldn't win or be in the top three, but would expect a good result like top 15 or top 20".
Vonn won the Lake Louise women's downhill event in 2011 with more than a two-second advantage over her closest rival.