Curling: Kiwi 'Scots' run comes to an end
Last updated on .From the section Winter Sports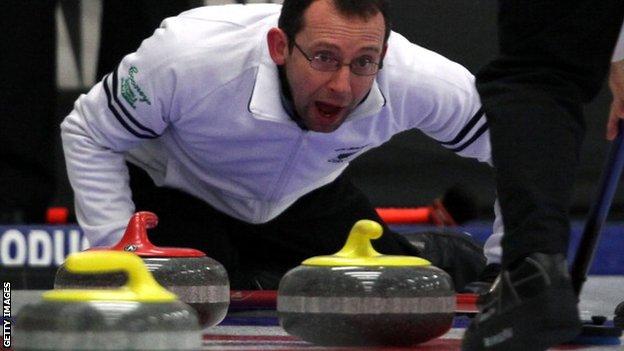 Hopes of having two Scottish skips in the World Men's Curling Championship final came to an end when New Zealand lost their play-off 10-2 to Sweden.
Skipped by Peter de Boer and with fellow Scots-born Kenny Thomson as lead, the Kiwis had gone further than ever before in the competition.
But they failed to make the third-fourth play-off after a one-sided loss.
The Swedes now face Norway, with the winner facing either Canada or Scotland in Saturday's evening's semi-final.
Glenn Howard's Canadians, whose only defeat in topping the round robin came against De Boer's surprise packages, take on Tom Brewster's side in the first versus second play-off in Basel, Switzerland.
The winner will head for Sunday's final, with the loser having another chance in the semi-final against the Swedes or Thomas Ulsrud's Norwegians.
With regular skip Niklas Edin still sidelined through injury, the Swedish team's regular third player, Sebastian Kraupp, again took over skipping duties against New Zealand.
Once the Swedes scored two at the first and stole a single point in the second, the Kiwis were always chasing the game and Kraupp's side stole another two in the fourth end.
New Zealand got on the board with two points at the fifth end, but the Swedes scored five at the seventh end, after which their opponents conceded.
However, De Boer's target was to collect points towards qualifying for the 2014 Winter Olympics and that was achieved.
"It's never much fun to finish a tournament like that," he said. "But, overall, we're delighted with where we ended up.
"We came here thinking that, if we played to our potential, we were good enough to win a few games and that would mean meeting our goal of gaining Olympic qualification points.
"We've certainly done that and we've shown we can foot it with the best in the world.
"We've achieved here on the bare minimum of preparation, simply because we don't have the funding to do any more.
"Looking ahead, I think we've demonstrated the potential to achieve real results if we have some backing, so we'll certainly be putting the case for that when we get back home."