Women's ski jumping gets 2014 Sochi Olympics go-ahead
Last updated on .From the section Winter Sports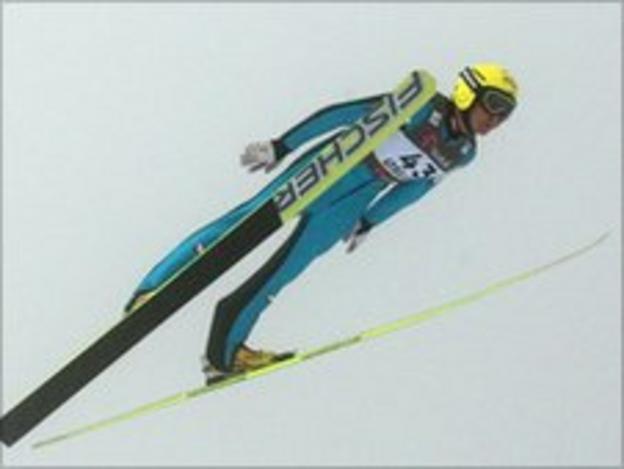 The International Olympic Committee has approved the inclusion of women's ski jumping and four other new events for the 2014 Winter Olympics in Sochi.
The IOC twice rejected women's ski jumping for the 2010 Vancouver Games.
Ski half-pipe, biathlon mixed relay and team events in luge and figure skating was also approved by the IOC.
But plans to include slopestyle events in snowboard and freestyle skiing as well as a team Alpine skiing event were put on hold for further review.
The news that slopestyle events - in which riders head down a course that has rails and jumps before they are judged on the difficulty of the tricks they execute - have not made it into the Games as yet is a blow for Great Britain's medal hopes in Sochi.
IOC sports director Christophe Dubi said more time was needed to study the technical aspects of the sport and a final decision is expected in late May or early June.
But GB freestyle team manager Simon Ashton remains hopeful that the IOC will include slopestyle in the Games.
"We are very happy that half-pipe events have been included and although we are disappointed that the IOC couldn't agree on slopestyle, we understand that there is an inspection of the venue planned for April," he told BBC Sport.
"We are hopeful that after this inspection, slopestyle will get into the Games.
"Half-pipe and slopestyle are sports that are extremely popular with young people and attract massive crowd to events."
Sheffield's James Woods won Britain's first slopestyle skiing medal at a major championships last month after taking bronze at the Euro Winter X Games in Tignes.
As well as Woods, snowboarder Jenny Jones has won the X Games and Euro X Games gold in slopestyle, while Katie Summerhayes - who is only 15 - finished ninth in Tignes in the ski equivalent.
Summerhayes and Emma Lonsdale are the leading Britons in the women's half-pipe rankings with Murray Buchan and James Machin the leading men.
In ski half-pipe, skiers score points for performing tricks and jumps on the same course used for the snowboard half-pipe.
Britain has never won a Winter Olympic medal on snow, only in ice sports, although slalom skier Alain Baxter did finish third in the 2002 slalom but had to relinquish the medal after failing a drugs test.
UK Sport had withdrawn funding for alpine skiing and snowboarding after poor results in Vancouver but had said it would consider the freestyle athletes should slopestyle be given the Olympic go-ahead.