Scotland lose out to Canada in curling final
Last updated on .From the section Winter Sports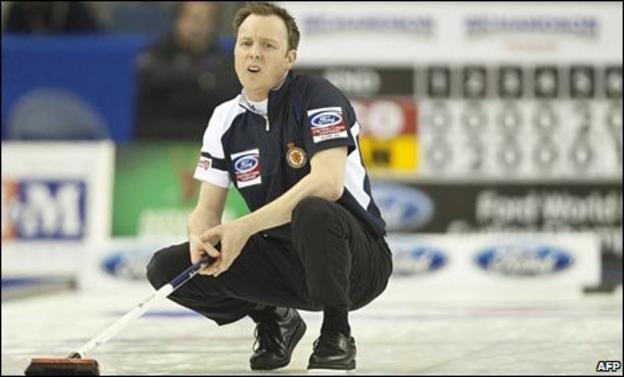 Tournament favourites, and hosts, Canada beat Scotland 6-5 in Sunday evening's final of the World Men's Curling Championship in Regina.
Scotland took an early 2-1 advantage then extended the lead to 3-1 after the third end.
However, after some pressure the hosts took a 4-3 lead after the fifth end.
Canada moved ahead in the eighth with a draw for two, then the Scots only took a single point in the ninth and Canada controlled the tenth to claim gold.
Scotland had earlier edged out Norway 7-6 to face Canada in the final.
The Scots had already lost twice to Canada in the round-robin stage and play-offs.
Tom Brewster's rink had a second chance of making the final after losing to Canada in the play-offs.
Norway had beaten Sweden in the 3-4 play-off to face Scotland.
Canada skip Jeff Stoughton said after his win: "It's unbelievable. It's not going to sink in for a couple of weeks I think. The guys played wonderfully well all week".
"Scotland had control early, but the fifth end was the turning point and we got control back.
"We had a struggle this first five ends until we pulled it out in five".
After the game, Scottish skip Tom Brewster, who was celebrating his 37th birthday, said: "It's great to get silver but I am a wee bit disappointed.
"I think we had a good chance here today and just didn't pull it off - fair play to them they played great".
"We gave up a bad three and we just didn't play a great end in the fifth, and we should have made two in nine - it just ran real straight on me".
"It's been fantastic - in two weeks' time we'll look back and think 'brilliant' - right now I'm gutted - but that's the way it goes."