Winter Olympics: Russia open criminal investigation into Alexander Krushelnitsky case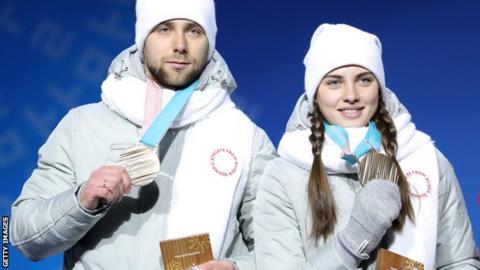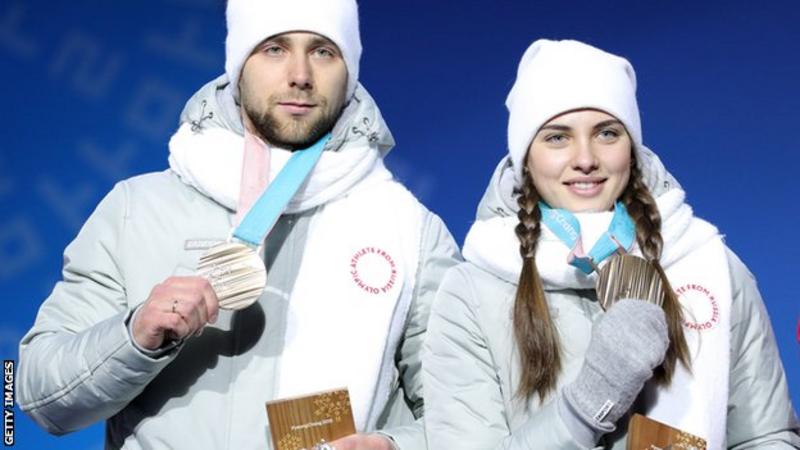 A criminal investigation has been opened into how Pyeongchang 2018 medal-winning curler Alexander Krushelnitsky tested positive for meldonium, says the Olympic Athletics from Russia team.
The 25-year-old's B sample also returned a positive test for the banned substance, it was announced on Tuesday.
Krushelnitsky won mixed doubles bronze with his wife Anastasia Bryzgalova.
"No evidence of the systematic usage of meldonium is available in this particular case," the OAR added.
"Therefore, the Russian Olympic Committee has initiated a comprehensive investigation of the circumstances, which also includes the criminal investigation under the Russian Federation criminal law to establish the facts of the case in detail."
Krushelnitsky said he has never taken a banned substance and welcomed the investigation.
"I, more than anyone else, am interested in an investigation as soon as possible to find out the reasons for what has happened," he said.
"I want to apologise to my partners on the Olympic team, our delegation and all the fans for not being able to protect ourselves and Nastya from the problems that we faced today.
"I'm very sorry that the historic victory of Russian curling has now become the subject of a doping scandal, which is doing immense harm to our sport and to all Russian sports in general.
"At the same time, I am ready to openly state that never, ever during the time that I have been in sport have I ever used forbidden drugs.
"I am absolutely against doping and I have always tried to follow all anti-doping rules as closely as possible."
An anti-doping case against Krushelnitsky was opened by the Court of Arbitration for Sport (Cas) on Monday, following a request from the International Olympic Committee (IOC).
Meldonium, a substance that increases blood flow and improves exercise capacity, was banned in 2016.
The OAR says Krushelnitsky returned a clear sample on 22 January, when the team's curlers were tested before flying out to South Korea.
"The circumstances of the case do not provide any answers to the questions as to how and when meldonium could have gotten into the athlete's body," its statement said.
It added that "unbiased results" of the analysis of Krushelnitsky's samples showed a concentration of meldonium "indicative of taking it once".
"This is not applied in medical practice and is absolutely useless and ineffective in the context of enhancing physical performance or sports results."
Russian athletes who could prove they are clean are competing under the OAR banner, after their country was banned from the Games over "systemic" doping at Sochi 2014, which they hosted.
The team comprises 168 competitors - the third biggest behind Canada and the United States.
The OAR also expressed "sincere regret over the fact" of Krushelnitsky's positive test and added "great efforts" had been taken in Russia to create a new anti-doping system, working with the IOC and World Anti-doping Agency (Wada).
"Our athletes provide doping samples on a regular basis and much more often than athletes from other countries," it said.
"We fully share and support the Wada and the IOC's zero-tolerance attitude to doping and take all the required measures so that the offenders bear the utmost responsibility for that.
"That's why we are committed to carry out the aforementioned investigation and to find the actual reasons of this doping case."
Earlier on Tuesday, Cas said Slovenia ice hockey player Ziga Jeglic had accepted an anti-doping rule violation for asthma medication fenoterol and has been suspended from the Games.
Japanese speed skater Kei Saito was the first athlete to be suspended from Pyeongchang after testing positive for acetazolamide, a banned diuretic which is considered a masking agent.