Winter Olympics: Ice dancer Gabriella Papadakis endures 'nightmare' as dress comes undone
Last updated on .From the section Winter Olympics
XXIII Olympic Winter Games
Venue:
Pyeongchang, South Korea
Dates:
9-25 February
Coverage:
Watch live on BBC TV, Red Button, Connected TVs, BBC Sport website and mobile app.
Full coverage times
It was the stuff of nightmares for French figure skater Gabriella Papadakis in Pyeongchang.
The 22-year-old had just started her short dance routine at the Winter Olympics when her dress came undone, leaving her breast exposed.
Papadakis "felt it right away and prayed", continuing her routine with partner Guillaume Cizeron to deliver a performance that leaves them in second heading into Tuesday's free dance.
"It was pretty distracting," she said.
"My worst nightmare at the Olympics. I told myself 'you have to keep going'.
"That's what we did, and we have to be proud of ourselves, delivering a great performance with that happening."
The Olympic debutants' samba-rhumba-samba to two Ed Sheeran hits earned them 81.93 points, only behind Canada's Tessa Virtue and Scott Moir who posted a world record score of 83.67.
The mishap took place when Papadakis leaned backwards early on and Cizeron inadvertently managed to unclip the back of her green costume.
"It's just frustrating to miss a few points because of a costume issue. It is not what we get ready for when we train," said Cizeron afterwards.
It is not the first wardrobe malfunction to occur at the Games in Pyeongchang, with a clasp on South Korean figure skater Yura Min's dress slipping just seconds into her pairs figure skating routine.
Both incidents still pale compared to Russian skater Ekaterina Rubleva at the 2009 European Championships, whose pink dress slipped down almost to her stomach.
Why choose an outfit that might break?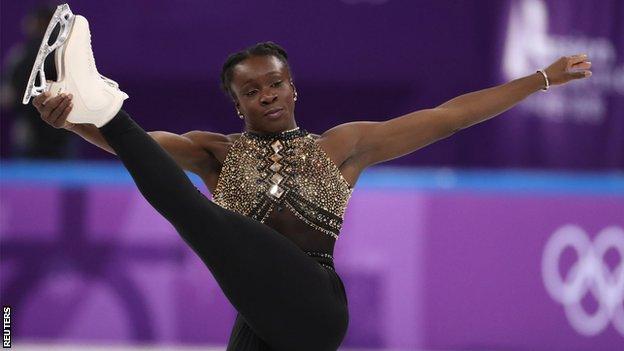 Such a wardrobe malfunction was never going to be an issue for figure skater Mae-Berenice Meite in Pyeongchang last week.
With rules allowing music with lyrics for the first time at an Olympics, the Frenchwoman donned a bodysuit and leggings for her performance to Beyonce's 'Halo' and 'Run the World'.
Skaters have been free to wear tights, trousers or unitards since the 'Katarina Rule' was repealed in 2004. The rule required female competitors to wear skirts and pants "covering the hips and posterior".
It was introduced after German skater Katarina Witt performed at the 1988 Olympics in a feathery costume with no skirt.
Now, the sport's governing body says female competitors' outfits must be "modest, dignified, and appropriate for athletic competition", so why do more not compete in body suits or leggings?
Figure skater Katrina Nelken says it is "easier to play it safe and traditional".
"Synchronized swimming, figure skating, and ice dancing are some of the only sports where you have to look pretty while you do it," she told the Atlantic.
"It's hard to break from that after, what, 100 years of tradition?"
And designer Susan Doyle says the ice rink remains "the red carpet moment" for younger skaters who "want to dazzle".
"We make sure we're watching what's happening at the Oscars and what's happening on the red carpet so we know the latest trends, because that's what they're going to be asking for," Doyle told the Boston Globe.