Winter Olympics: Crash, Bang, OUCH - when stars take a tumble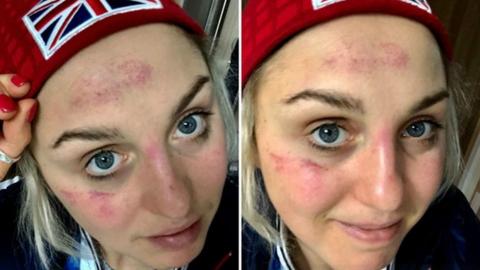 This article contains some images people may find distressing.
Have you ever been ice skating and taken a small tumble but thought nothing of it, only to wake up the next day and BOOM!
Within hours, you are the proud owner of a Galia melon-sized bruise.
The nature of the beast means snow- and ice-related knocks can be bigger and much more painful than 'land-based ouchies'.
Some in-depth research has concluded speed, gravity, fearlessness and throwing yourself off mountains are all contributing factors.
Team GB's Aimee Fuller picked up some rather nasty-looking scrapes having landed on her face in Monday's Big Air qualifiers in Pyeongchang.
We have taken a look at some of the horrible "bumps and bruises" Winter Olympians have had to overcome. Sport hurts, ladies and gentlemen!
Penny Coomes
Great Britain figure skater Penny Coomes shattered her knee cap into eight pieces during a routine training session in 2016.
"One minute we were laughing and joking; the next I was on the floor screaming in agony," said Coomes.
The injury was so severe, she was told she may not walk on it again, let alone compete.
Amazingly, Coomes was back on the ice four months later.
Her and partner Nick Buckland take to the Olympic ice again on Tuesday in the free dance competition.
"I'm so happy, relieved and overwhelmed to be here," Coomes said. "No matter what, we did it. I'm so proud of us and our team."
Mons Roisland
Norwegian freestyle snowboarder Mons Roisland said he suffered the "heaviest crash of [his] life", in one of the practice sessions in Pyeongchang before the Games started.
Unfortunately he broke his chest bone and tore ligaments in his shoulder, causing the awkward looking lump.
It ruled him out of the competition and looking at the X-ray, you can see why.
Lindsey Vonn
American superstar Lindsey Vonn is the Queen of getting back up again.
The skiier has suffered some horrendous crashes in her time, two serious ones in 2016 - a broken leg in March, which ended her season, and then this:
Seven months after the leg break, Vonn badly fractured her humerus and suffered severe nerve damage.
She missed 322 days of competitive racing but it didn't take long on her return to action before she was back on winning form - two races in fact.
Vonn won on her second race back in Garmisch, Germany earning a 77th World Cup race win.
Vonn takes to the mountain again on Wednesday at 02:00 GMT in the downhill.
Katie Ormerod
She was a medal hope for Team GB but freestyle snowboarder Katie Ormerod suffered two broken bones in two days before the Games had even began.
First a minor fracture to her wrist meant she planned to compete with a splint but the following day, lightning struck twice.
"It was the first run of the day. I was on the same rail (as where she picked up the wrist injury).
"I just came off a bit early and dropped maybe two or three metres on to the flat. It was almost like landing on concrete and my heel broke into two pieces.
"I remember saying to my coach that I was too scared to take my boot off as I thought it would be bleeding. I thought it would be a compound fracture, that's how painful it was."
Ouch. Ouch. Ouch.
Since then we have learned she has undergone successful surgery and is back in the UK having further treatment.
Shaun White
The 'Flying Tomato's' journey to the 2018 Winter Olympics was a rather bloody one.
Olympic snowboard half-pipe champion Shaun White crashed on a training run in New Zealand in October 2017.
He was air-lifted to a hospital and required 62 stitches to his face and suffered from a pulmonary lung contusion - a bruise on the lung.
The crash didn't seem to phase him, and he showed he was back to his best with only the second perfect score of 100 in history in the following January's US Grand Prix.
He made history last week to become the first snowboarder to win three Olympic titles.
Billy Morgan
Ooooo, now this looks sore.
Great Britain's Billy Morgan posted this picture on his Instagram during the 2014 Winter Olympics in Sochi.
"Front dub 10 to ice burn to the anus!" was the caption.
We aren't 100% what that means either but it looks pretty sore!
Rowan Cheshire
Four years ago, halfpipe skier Rowan Cheshire was training at the Rosa Khutor Extreme Park in Sochi, when she made a mistake.
Rowan landed on her head, knocking herself unconscious and breaking her nose.
It resulted in a severe concussion and was the first of three head injuries over the next 18 months, which Cheshire said caused "severe side-effects" that changed her life and almost saw her leave the sport.
Happily, there is good news for Rowan as she qualified for the Olympic final and will go for a medal on Tuesday morning.
Elise Christie
We have all been following Elise's journey during these Games and it's fair to say it's not been an easy watch.
Short track speed skater Christie left the ice in tears on a stretcher and was taken to hospital after a collision with China's Li Jinyu in Saturday's 1500m semi-final. Team GB chef de mission Mike Hay said she had "ruptured part of the tendons" in her ankle.
Hay added that, after that, she made "good progress" in her bid to be fit for her final Winter Olympic medal chance - the 1,000m.
The heats for that event take place on Tuesday from 10:00 GMT.