Winter Olympics: Alexander Krushelnitsky subject of anti-doping case
Last updated on .From the section Winter Olympics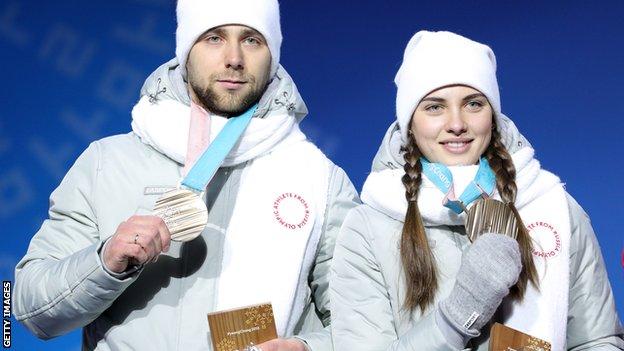 An anti-doping case has been opened against Russian medal-winning curler Alexander Krushelnitsky, says the Court of Arbitration for Sport (Cas).
Krushelnitsky, who won Winter Olympic bronze with wife Anastasia Bryzgalova in the mixed doubles, is suspected of testing positive for meldonium.
Cas opened a case against the 25-year-old following a request from the International Olympic Committee (IOC).
A hearing date has not been set and a B sample result is expected on Monday.
More than 160 competitors are in the Olympic athletes from Russia (OAR) team as their country was banned from the Games over "systemic" doping at Sochi 2014, which they hosted.
Russian athletes who could prove they are clean could compete under the OAR banner, with the team comprising 168 competitors - the third biggest behind Canada and the United States.
"It's a huge embarrassment for the IOC, given it let OAR compete," said BBC commentator Steve Cram.
The Reuters news agency originally confirmed the identity of the athlete with a Russian Olympic delegation spokesman.
A spokesman for the IOC said it would be "extremely disappointing for us if a case is proven".
An IOC statement added: "Doping, testing and sanctioning at the Olympic Winter Games Pyeongchang 2018 is independent from the IOC. Therefore the IOC cannot communicate on individual cases while the procedure is ongoing."
The BBC understands Krushelnitsky - who won bronze alongside Anastasia Bryzgalova as part of the neutral OAR team - has left the Pyeongchang 2018 village and is in Seoul awaiting the result of the test on the B sample, which is expected later on Monday.
Meldonium, a substance that increases blood flow and improves exercise capacity, was banned in 2016.
Russian curling federation president Dmitry Svishchev confirmed to Reuters that the team's curlers had been tested on 22 January, before flying out to South Korea, and that the tests returned then were negative.
"I have known these guys for many years," Svishchev said. "Only a crazy person takes banned substances before a competition, before the Olympics.
"It's a strange story. It raises a lot of questions."
In a statement released on Monday, the IOC insisted there was "a strong testing programme" in place at the Games.
It added: "On the one hand it is extremely disappointing when prohibitive substances may have been used, but on the other hand it shows the effectiveness of the anti-doping system at the Games, which protects the rights of all clean athletes."
'A huge embarrassment for the IOC' - analysis
Eve Muirhead, Great Britain women's curling team skip:
"What can you take in curling that can make you a better curler? Even to consider doping, I just absolutely hate it. It is downright cheating. As curlers, we can only do our best out there, play our own game and we train very hard on and off the ice to be the best we can.
"It is disappointing. Whenever you hear about a positive doping test in your sport, it is disappointing. After everything that happened in Sochi, you would think they would have learnt from that but unfortunately no.
"As a team, we just have to keep doing what we can do, of course we have played the Russian team here and made a great game against them. We concentrate on ourselves from now on in."
Steve Cram, BBC curling commentator:
"It is a piece of shocking news. Curling is not a sport you associate with doping.
"People shouldn't assume curling isn't a physical sport, especially mixed curling. They train hard in the gym just like every athlete - but it's also a sport of concentration."
Alex Capstick, BBC Sport in Pyeongchang:
"IOC spokesman Mark Adams said the B sample is likely to be analysed on Monday at a laboratory in Seoul. It is rare that a second test gives a different result to the first.
"The substance involved is believed to be meldonium, a drug banned since January 2016 but sold over the counter in many eastern European countries.
"Mr Adams defended the pre-Games anti-doping programme, which he said targeted Russian competitors significantly more than those from other countries.
"He said if a doping violation was proved then it would be taken into consideration when deciding whether Russia's Olympic ban would be lifted in time for the closing ceremony."
'It's very hard to believe' - Russia reaction
Members of the OAR curling squad say they are shocked by Krushelnitsky's positive test and believe he is innocent of doping.
"It's stupid, but Alexander is not stupid, so I don't believe it," said women's curling coach Sergei Belanov.
Russian curler Viktoria Moiseeva said the team all hope it is "some kind of mistake".
"With us it's not faster, higher, stronger; it's about being more accurate," she said. "I can't imagine what kind of drugs you could use in curling, so it's very hard to believe."
The OAR team had been hoping good behaviour at Pyeonghang would persuade the IOC to allow them to use the Russian flag and wear national uniform at the closing ceremony on 25 February.
Moiseeva added she was worried the case could harm Russia's chances of regaining fully Olympic status.
"It's a catastrophe. If it's not just one Olympics but others too it will throw sport in our country into turmoil," she said. "It's awful just to think about."