Winter Olympics 2018: Tonga's Rio Olympic flagbearer will compete in Pyeongchang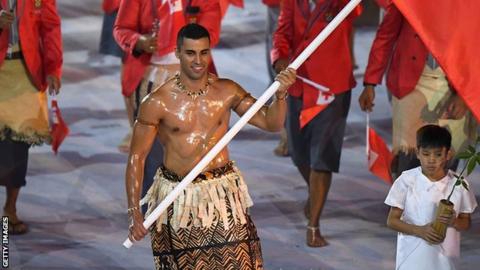 The name Pita Taufatofua may not mean much to you but the image of Pita Taufatofua will probably have stuck in your mind.
He was Tonga's bare-chested, oiled flagbearer at the Rio Olympics in 2016, whose photo went viral following the opening ceremony in Brazil.
And now, he could be reprising that role in Pyeongchang at next month's Winter Olympics.
After switching from taekwondo to skiing after Rio, the 34-year-old, now 15kg lighter and wearing substantially more clothes, has made history as the first Tongan skier to qualify for the Winter Olympics.
Taufatofua took up cross-country skiing following a disappointing first-round defeat in the taekwondo in Rio.
"After Rio I decided to find the hardest sport possible because I needed a new challenge," he said.
"You've got to put your body through something really challenging and the goal was to do it in one year - and we did it in one year!"
It all came down to his last cross-country race and the last chance of qualification in Iceland.
"I was so happy, every race up to this moment I felt pretty bad, but this race, something felt really good," he said after his final run.
The Tonga Ski Federation says he finished with the points he needed to qualify for Pyeongchang.
'Grave or glory'
Taufatofua's journey to the Winter Olympics has been eventful, from using roller skis in South America to failed runs in eastern Europe.
"I thought there's one race left, it's the end of the world, in the arctic circle. I thought, 'I have to give it my all - it's grave or glory' and I gave it absolutely everything.
"We sacrificed everything to be here - financially, I am in the worst position ever but I am the happiest ever."
That sacrifice has included travel through several countries to attend qualification races, some more successful than others.
Last week he posted a photo on social media, when he was stuck at Istanbul airport after missing a flight to Croatia, where he had hoped to secure qualification.