Winter Olympics 2018: North Korea will send 22 athletes to Pyeongchang
Last updated on .From the section Winter Olympics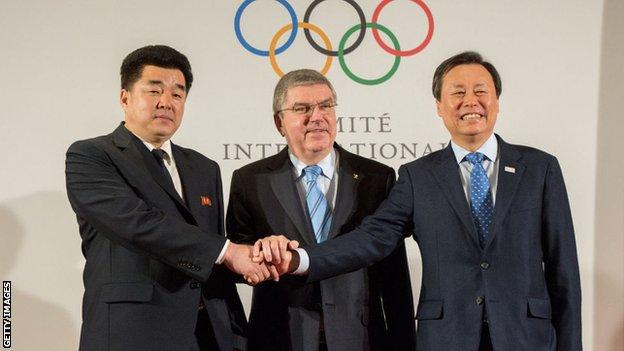 North Korea will send 22 athletes to compete in five sports at the Winter Olympics in South Korea in February.
The International Olympic Committee hosted a meeting in Switzerland on Saturday to discuss North Korea's participation in Pyeongchang.
IOC president Thomas Bach announced the two nations would march together at the opening ceremony on 9 February.
Describing the agreement as "a milestone in a long journey", Bach also confirmed North and South Korea will be allowed to field a unified women's ice hockey team at the Games.
North Korea will also be represented in alpine skiing, figure skating, short track speed skating and cross-country skiing.
The two countries had already agreed to compete under a unified Korean flag.
"The Olympic spirit is about respect, dialogue and understanding," Bach added following the announcement in Lausanne.
"The Olympic Winter Games PyeongChang 2018 are hopefully opening the door to a brighter future on the Korean peninsula, and inviting the world to join in a celebration of hope."
The 'Olympic Korean Peninsula Declaration' ruled:
Unified women's ice hockey - 12 players and one official from North Korea will be added to the existing South Korea squad of 23 players. The South Korean head coach will take charge but at least three players from North Korea must be selected in the team.

Figure skating - skating pair Ryom Tae-Ok and Kim Ju-Sik have been given a place, despite missing the original registration deadline.

Short track speed skating - two extra places have been allocated to North Korea, allowing Jong Kwang-Bom to compete at 1500m and Choe Un-Song to take part in the 500m.

Cross-country skiing: two male athletes - Han Chun-Gyong and Pak Il-Chol - will compete in the 15km freestyle, while one female athlete Ri Yong-Gum has a place in the 10km freestyle.

Alpine skiing: three places have been awarded - Choe Myong-Gwang and Kang Song-Il join the male competition and Kim Ryon-Hyang will compete in the women's event.