Winter Olympics 2018: Jamaica's women to compete in bobsleigh 30 years after men

By Nick Hope
BBC Olympic sports reporter
Last updated on .From the section Winter Olympics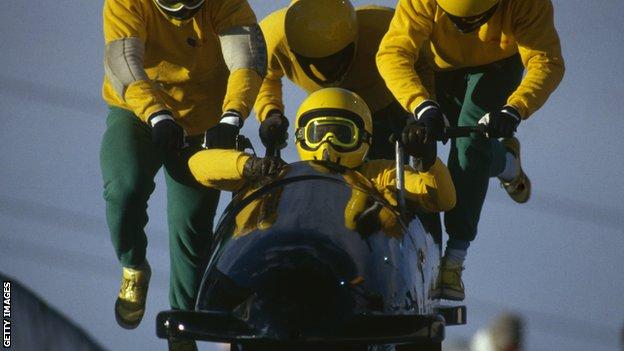 Jamaica is sending a women's bobsleigh team to next month's Winter Olympics, 30 years after the country's men made their first historic appearance.
They will be led in Pyeongchang by Jazmine Fenlator, who competed for USA as a push-athlete at Sochi 2014.
The men made their legendary Olympic debuts at Calgary in 1988, which led to the making of the film Cool Runnings.
Jamaica's women will be targeting a top-10 result, having finished seventh at December's Winterberg World Cup.
American-born Fenlator switched to join her father's native Jamaica in 2015.
"Pyeongchang will be my second appearance at the Winter Games, but it is just as special as my first," the 32-year-old said.
"This time I have the opportunity to represent my other home - Jamaica - and make history as the first female team representing the country in the Winter Olympic Games."
Brakewoman Carrie Russell, who won a gold medal in the 4x100m relay at the World Athletics Championships in 2013, will make her first Winter Olympic appearance in South Korea.
"This is one of the happiest moments of my life," the 27-year-old said. "I never dreamed that I would become a bobsled athlete."
Fenlator and Russell will be joined in the team by brakewoman Audra Segree, who also competed on the track as a sprinter.
"A leap of faith and a dream come true later I will be representing my country as one of the first women bobsled athletes in the Olympics," Segree, 27, said.
"I am overwhelmed with joy knowing that I have helped make history for my country. I am really grateful for this experience."
Jamaica's men's team is currently ranked 31st in the Olympic qualification list and there are 30 places in the competition.
If any higher-placed nation withdraws their team, Jamaica would be given a qualification spot for their seventh appearance in the men's two-man event.
On Monday, Nigeria's women's bobsleigh team announced they would be the first African sled to compete at a Winter Olympics.