Winter Olympics 2018: Russian boycott would damage athletes - Wada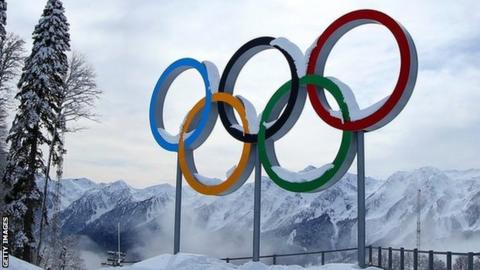 A Russian boycott of February's Winter Olympics would "damage athletes", says World Anti-Doping Agency (Wada) president Sir Craig Reedie.
Wada said on Thursday that Russia remains non-compliant with its code, but clean Russians may compete in Pyeongchang under a neutral banner.
It has been claimed President Vladimir Putin would not allow them to do so.
"Boycotts, in my view, never really work. All they do is damage athletes," Reedie told BBC Sport.
"The Olympic movement was plagued with boycotts 20, 25 years ago and it has got over that issue. I hope that people come and compete."
The International Olympic Committee (IOC) will make the final decision on Russia's participation in South Korea from 9-25 February at its next board meeting from 5-7 December.
Last year, an independent report commissioned by Wada found evidence of state-sponsored doping in the country.
Wada told BBC Sport last week that the "best solution" is for Russia to "work with them" after receiving new intelligence.
Russia's sports minister said their anti-doping agency (Rusada) have "fulfilled all of their obligations" to get the ban - implemented after an initial Wada report in 2015 - lifted.
However, Wada says two criteria remain outstanding: granting access to the Moscow laboratory suspected to be the hub of the operation, and a public acceptance that senior sports ministry figures were complicit in an organised cover-up.
Reedie said Wada and the Russian authorities "seem to have very different definitions" of what is deemed state-sponsored doping.
"Their definition seems to be that state sponsored means from the very top of state down to the very bottom of state," he said. "In the western world it would be different.
"If it comes down to a situation where we're one letter apart then I'm sure we could resolve that.
"There would have to be a will to do it. At the moment there are still feelings that we shouldn't."
Kuwait, Equatorial Guinea and Mauritius were also found non-compliant by Wada's independent compliance review committee on Thursday.
What was Russia's reaction?
Russian authorities have never acknowledged any involvement in doping, and President Putin has suggested the allegations were an attempt to sow discontent in the build-up to the presidential elections.
Russian Olympic Committee president Alexander Zhukov, who said in September he expected the country to have a team at the Winter Games, reiterated the state's innocence and said Wada's latest judgement "cannot be accepted".
"We accept the fact our national anti-doping system has failed [but] we absolutely deny a state-sponsored doping system," said Zhukov, who added that unconditional recognition of the McLaren report "is impossible".
Sports minister Pavel Kolobkov said the criteria for reinstatement have a "political character".
"I got the impression that the decision was made in advance," he told TASS news agency after Wada's announcement, made on the recommendation of its independent compliance review committee.
"[The] committee has been inventing reasons not to reinstate Rusada; the accusations are simply a joke."
Analysis
BBC sports editor Dan Roan
This is important news as it will heap pressure on the IOC to ban Russia from the 2018 Winter Olympics when it meets in early December.
IOC president Thomas Bach has been weighing up a compromise, such as a hefty fine. But now the pressure to allow only Russians who can prove they are clean to compete as neutral athletes will intensify.
Insiders believe that, with an election in March looming, this may mean President Putin will boycott the Games and order his athletes to stay away rather than compete as neutrals. We are a step closer to the first major boycott of an Olympics since 1984.
Why were Russian athletes banned?
Russia was suspended from track and field events by the International Association of Athletics Federations in November 2015 following the publication of the independent Wada report.
Former sports minister Vitaly Mutko apologised for Russia's failure to catch the cheats, but stopped short of admitting the scandal had been state-sponsored.
However, an independent report commissioned by Wada and completed by Canadian law professor Richard McLaren suggested senior figures in Russia's sports ministry were complicit.
The report implicated the majority of Olympic sports in the cover-up and claimed Russian secret service agents were involved in swapping positive urine samples for clean ones.
As a result, Wada recommended all Russian athletes be banned from competing in the Rio 2016 Olympic Games.
The IOC chose not to impose a blanket ban, instead leaving decisions on whether Russians could compete to individual sporting federations. In total, 271 Russians competed in Rio.
"While it's another sad moment in this entire sordid affair, there was really no other outcome, based on their unwillingness to admit what the flood of evidence proves, said the US Anti-Doping Agency's Travis Tygart. "Now clean athletes are watching anxiously to see if the IOC similarly will take action to finally stand up for their rights or not."
Support for Russia
Some figures from the world of winter sport have come out in support of Russia.
Bob Storey, former president of the International Bobsleigh and Tobogganing Federation, said: "These issues are not just in Russia, and not without resolution over time.
"Now many innocent athletes, who have worked a lifetime to earn Olympic status, are in limbo because of the interminable squabble over past doping transgressions. Those athletes wait while sport politicians and technocrats decide whether or not they can compete at Pyeongchang.
"I have never met an Olympic competitor who wants to win through technical disqualification of clean competitors. Banning clean athletes from future games or from competing under their country's flag serves no sporting or Olympic purpose."