Speed skating World Cup: Elise Christie wins gold medal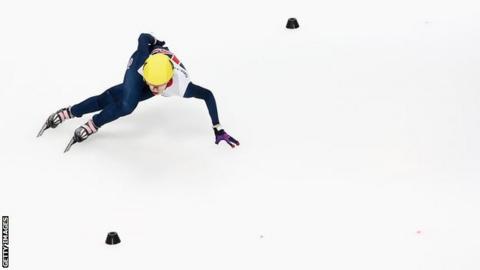 Great Britain's Elise Christie won gold in the 500m at the speed skating World Cup in Calgary, Canada.
Christie, 26, clocked a time of 42.565 seconds to finish ahead of Canadian Jamie Macdonald and Netherlands skater Yara van Kerkhof.
The Nottingham-based Scot has been training with men and "learning to lose" to boost her medal prospects.
She was controversially disqualified three times at Sochi 2014 but won World Cup and European honours last season.
"It's been great to be back here in Calgary," said Christie.
"I haven't had the most straightforward of competitions with a few falls on Friday and Saturday. My coaches and support team worked with me and my equipment overnight and the adjustments paid off."
Christie was also part of the GB ladies relay team who broke the 3,000m British record on Friday.
The team of Christie, captain Charlotte Gilmartin, Kathryn Thomson and Samantha Morrison finished in four minutes 13.719 seconds, with the previous record having stood at four minutes 14.57 secs.