Sochi 2014: IOC 'must enforce standards of Olympic Charter'
Last updated on .From the section Winter Olympics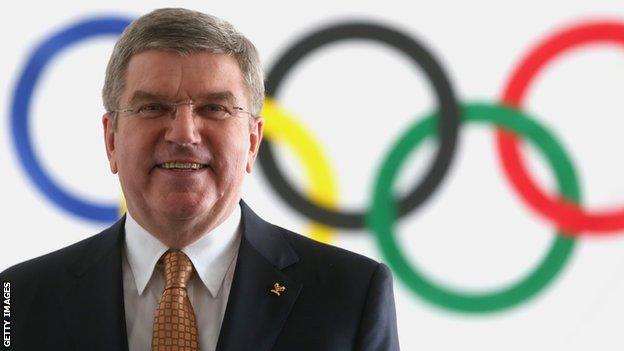 The International Olympic Committee (IOC) should not award future Games to nations with discriminatory laws, say human rights and gay rights groups.
The IOC was criticised for allowing the Winter Olympics to take place in Russia after President Vladimir Putin introduced anti-gay legislation.
Several groups have united to write to IOC president Thomas Bach.
Their letter said no Olympics could be "truly successful" where "state-sponsored discrimination" existed.
The letter is timed to coincide with the final weekend of the Sochi Winter Olympics.
Amnesty International, Human Rights Watch and the International Gay and Lesbian Human Rights Commission were among the groups to pen it.
The letter read: "As Russia's controversial Winter Games come to a close, we write to you to ensure that future Olympics faithfully reflect the principles of the Olympic charter, including Principle 6, which forbids discrimination of any kind.
"There cannot be a truly successful Olympics where there exist state-sponsored discrimination and other major human rights violations."
The letter added the "honour and privilege" of hosting the Olympics should not be given to countries "with laws designed to discriminate against or attack the dignity or human rights of any individual or group".
It added: "By consistently enforcing the standards set forth in the Olympic Charter, the Olympic Movement could indeed be a force for good."
The letter also asked the IOC to amend the wording of Principle 6, which forbids discrimination on ethnic, national, religious and racial grounds, to include a reference to sexual orientation and gender.
The IOC said it will consider the wording of the principle during a meeting to be held in December.