Sochi 2014: Russia win relay to earn first biathlon gold
Last updated on .From the section Winter Olympics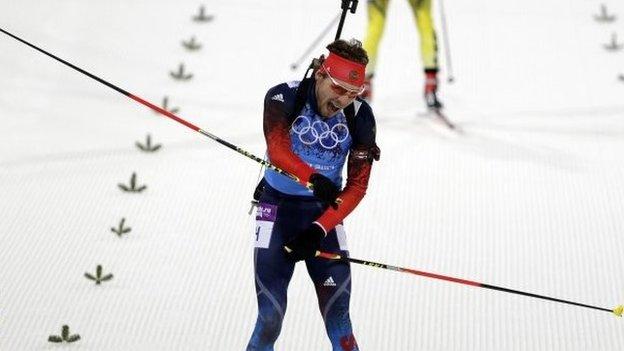 Russia finally won their first biathlon gold when they edged out Germany to win gold in the men's 4x7.5km relay.
Anton Shipulin powered away late on to beat Simon Schempp by three seconds, with Dominik Landertinger guiding Austria to bronze.
Shipulin's sister, Anastasia Kuzmina, had won gold for Slovenia in the women's 7.5km event.
Ole Einar Bjoerndalen was unable to add to his medal tally of 13 after Norway finished fourth.
Bjoerndalen's team were third but team-mate Emil Hegil Svensson struggled badly on the last shoot and had to ski a penalty that caused them to lose a place.
"I tried to do my best and the German team have given us a present," said Shipulin. "I want to thank them and to thank my team as well because everyone did their best in the team."