Sochi 2014: Bobsleighers Tony Nash and Robin Dixon's 1964 gold
By Rob Hodgetts
BBC Sport at the Winter Olympics
Last updated on .From the section Winter Olympics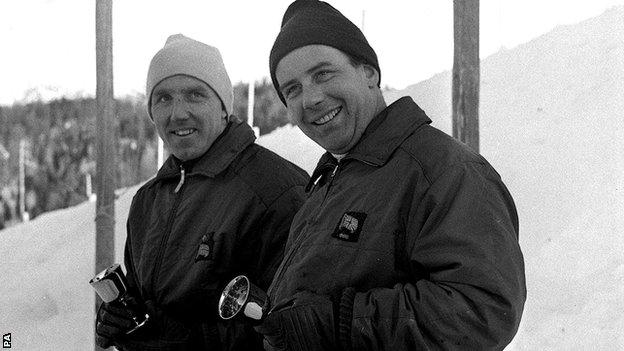 In 1964, British bobsleighers Tony Nash and Robin Dixon pulled off a bold heist - involving Lord Lucan, Italian generosity and a whisky or two - to snatch Olympic gold from the alpine nations in Innsbruck. Fifty years later, Britain is still waiting for another.
But despite supposedly inventing the pastime when wealthy tourists employed sleds to gallivant about St Moritz in the 19th century, Britain has since lagged behind in the global bobsleigh arms race.
So how did Nash and Dixon mastermind their bobsleigh banditry?
For Dixon, now Lord Glentoran, it was a chance meeting with cousin John Bingham - later to become the infamous Lord Lucan - in St Moritz in 1957 that set him on course to Olympic glory.
Old Etonian Glentoran, an officer in the Grenadier Guards, was on a services' ski holiday when he bumped into Bingham at breakfast.
"He asked me if I'd ever thought of bobsleigh. I hadn't even seen it," the 78-year-old told BBC Sport. That afternoon Glentoran, a talented sprinter, had his first taste and was hooked, and quickly rose up the bobsleigh ranks.
"It was fun and exciting and an opportunity to get a cheap cap and I grabbed it," he added. "In the 50s, from a GB point of view, it was very amateur. It was just a bunch of guys who wanted to have some fun."
Nash, now 77, took up bobsleigh during national service in the Royal Dragoons, and remained in the sport when he went back to the family brewing business in Chesham before working for his uncle's engineering firm.
"I'd always been interested in fast cars but I had a deal with my father that I wouldn't go on a motor-racing track if he gave me some money to go and bobsleigh," Nash told BBC Sport. "There was no financing at all. We were all very Corinthian."
Nash and Glentoran began racing in four-man bobs, but teamed up in the two-man when pilot Henry Taylor, an accomplished motor racing driver, was injured competing in Formula 1 in 1960. Nash - who was "blind as a bat" and raced in glasses or early contact lenses - took over as driver, having taught himself the basics as he went along.
The pair raised cash through family and friends, though Nash and their wives undertook most of the organisation while Glentoran was away with the Army. "He did all the grunt work, I just turned up as an athlete," said Glentoran.
They would drive out in a Land Rover with two sleds on a trailer and spend January and most of February in the Alps until the tracks, made with real ice in those days, began to melt.
"Time was very limited," said Nash. "We used to work out what we were going to do for the winter while we were shooting in October, November and December.
"The Austrians used to call me the 'Profy', or the professional, as I used to take it quite seriously. I never took the truck with the sleds up to the top, I always walked up, to see the track. We were focused and on the ball but come the evening there were other things to do and we got on with life.
"It's a different world now with these professional sledders, eating, sleeping, drinking bobsleigh. Their world is a little smaller than ours was in the old days.
"The thought of a sport psychologist would have driven me absolutely mad."
In their first big competition together, the 1961 World Championships in Lake Placid, Nash and Glentoran broke the track record and led after the first day before slipping back to finish sixth overall.
It got them noticed, and Nash's friendship with top Italian driver Eugenio Monti, a multiple world champion, paid dividends.
"Tony was very gregarious and got on very well with the Italians and they gave us a lot of help," said Glentoran. "They felt they'd dominated the sport for a long time and wanted to bring some of the non-alpine countries into it.
"In 1963, the Italians had built a new run in Cervinia very similar to the Olympic run in Innsbruck, with three very big S curves. Tony and I were in St Moritz and they invited us over to open the run with them. It was very exciting and a very good start to the season."
The Britons took full advantage, and at that year's world championships on the forthcoming Olympic track at Igls, near Innsbruck in Austria, they won bronze behind the two Italian sleds.
A year later, the pair shared a room in the Olympic village in Innsbruck, and the night before the competition they listened to records and sipped "a whisky or two".
The approach worked as Nash and Glentoran in GBR 1 led after the first two runs on day one.
"That was pretty hairy. Life got pretty serious. We didn't drink too much whisky that night, I can tell you," said Glentoran.
But disaster loomed after the first run on the second day when the British discovered a rear axle bolt on their sled had sheared off and they didn't have a spare.
"Eugenio was on the line about to do his run but he came across and said, 'Don't worry. Send an Englishman down to meet me and you can have mine'," said Glentoran.
The pair admit they had already acquired another bolt by the time the Italians reached the top of the course, but this act of generosity went down in Olympic folklore and earned Monti the inaugural Pierre de Coubertin medal for fairplay.
The Britons were in second place after the third run but thought they had blown their chance after a scruffy final descent.
"On our last run we made a small mistake and I thought 'that's it'," said Glentoran. "We went to a hut near the finish and had a coffee and schnapps and thought, 'well played, but not well played'. Then various people found us to say the world's press were looking for us. The race track had softened and nobody could overtake us."
The British beat Italy's number two sled, manned by Sergio Zardini and Romano Bonagura, by 0.12 seconds with Monti and Sergio Siorpaes in Italy 1 third.
"By 1030am the champagne was out. It didn't stop for some time," said Nash.
That evening they made their way down to Innsbruck for the medal ceremony, but couldn't find a way into the stadium.
"The Austrians had policeman everywhere but they were very Germanic and uncooperative," said Nash. "We saw another chap we knew, Lord Exeter, milling about and said to him, 'Excuse me, sir, where do we get in? He said, 'Don't worry chaps, they can't start without us. You're getting the medals and I'm giving them to you'."
The pair, who have a corner named after them at the St Moritz track, won the world championship in 1965 and took bronze in 1966. They also competed at the 1968 Olympics, finishing fifth behind Monti.
Glentoran left the army in 1966 and went into business in Northern Ireland before becoming the 3rd Baron Glentoran and entering the House of Lords in 1995 upon his father's death. Nash runs a timber company in Devon.
"We celebrated 57 years of friendship recently, and we're still great mates," said Glentoran.
In recent years, an overhaul of British Bobsleigh has seen encouraging results at junior, youth and senior level, including silver at the 2012 Winter Youth Olympics, and led to a UK Sport grant of £3.3m for the Sochi Games cycle.
But is Glentoran surprised there have been no other Olympic gold medals in 50 years?
"Yes and no. Slightly disappointed," said Glentoran, who has been president of British Bobsleigh since 1987. "It's had some rough times, financially and otherwise. I think it has got a strong set up now, with skeleton and bobsleigh under one roof.
"We have a very good base at Bath University and very good relationships with schools and the services and with British athletics. I certainly wouldn't knock it. I think the future is strong."