Sochi 2014: Chemmy Alcott's selection hopes hit by snowfall
By Nick Hope
BBC Olympic sports reporter
Last updated on .From the section Winter Olympics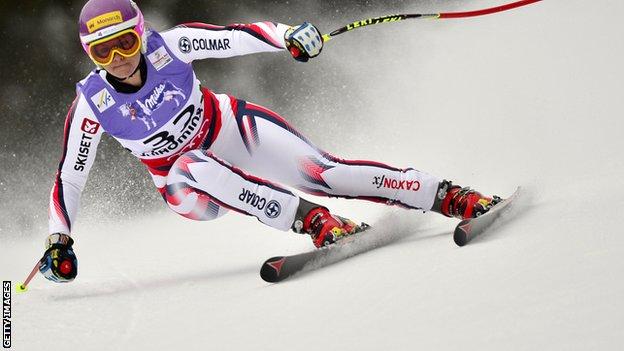 Chemmy Alcott's hopes of competing in a fourth Winter Olympics for Britain hang in the balance after bad weather forced her comeback race to be cancelled.
She needed to prove her race-fitness by Sunday to be considered by Team GB selectors for February's Sochi Games.
Britain's Winter Olympic team for Sochi will be announced on Wednesday.
"The disappointment of not having the chance to race this weekend is tough anyway but to know that these were the only chance for me to show my form is really frustrating," said Alcott.
"No athlete on the start list wanted to race more than me.
"I am a veteran of three Olympics and I committed my everything four years ago to represent my country in Sochi.
"The preparation has been far from ideal but I have shown in the past how quickly I can get back to race ready."
The British Ski and Snowboard Federation said in a statement: "The cancellation of the World Cup in Italy won't mean she isn't considered for selection.
"The selectors will look at current form - which will consist of a mix of racing in the Europa Cup last week and conversations with Chemmy, her team and coach.
"She has the Olympic Qualification Standard [OQS] but it is now about being able to prove she is fit enough to compete at the same level as she did before her injury."
Alcott, who also suffered a serious compound fracture in 2010, was due to compete in the Cortina World Cup in Italy - the final Olympic qualification event - on Saturday morning, but heavy snowfall caused the downhill race to be postponed for 24 hours.
A subsequent inspection of the course on Sunday saw racing cancelled once more with little prospect of it being re-scheduled before the Team GB Olympic squad was due to be announced.
"They [the race officials] won't do anything until the team captains meet on Tuesday afternoon," Alcott told BBC Sport.
"They would need 15 hours of blue skies before the piste is ready for a World Cup race."
Alcott made her Olympic debut in Salt Lake City in 2002, coming 14th in the super-combined, before best-placed finishes of 11th at both the 2006 Turin and 2010 Vancouver Games.
Since then she has broken her leg three times, seen her UK Sport funding axed and resorted to extreme fund-raising efforts in a bid to keep her dream alive.
Despite the setbacks, she achieved the minimum qualification standard for Team GB with two top-32 World Cup finishes during the qualification period.
She finished 91st in a second-tier Europa Cup competition in Austria earlier this month but was only using the event as a gentle test of her previously injured leg ahead of what she hoped would be a successful World Cup return.
Last week the skier said in a post on her Facebook page: "All I hope is that I am given a chance to show my skills as part of the magnificent Team GB that will be named."
Dave Ryding is currently the only other British alpine skier to achieve the Olympic qualification standard.
Britain's best prospect of success on the slopes comes in the freestyle events.
Slopestyle skiers James Woods, Katie Summerhayes and Rowan Cheshire - plus snowboarders Jenny Jones and Billy Morgan - have all won World Cup medals ahead of Sochi.