Sochi 2014: Winter Olympics sports this week
Last updated on .From the section Winter Olympics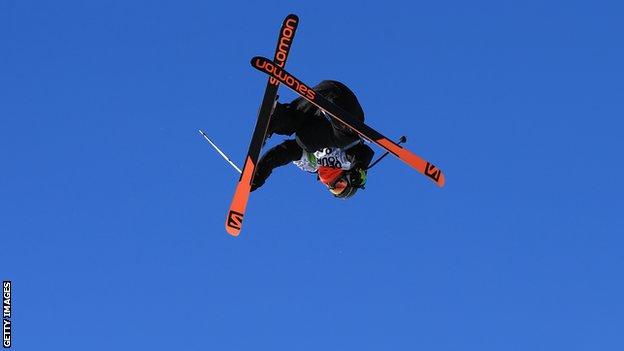 MAJOR EVENTS THIS WEEK
ALPINE SKIING - World Cup men's Downhill and Super G, Val Gardena, Italy (20-21 Dec) & Giant Slalom, Alta Badia, Italy (21 Dec); World Cup women's Slalom, Courcheval (17 Dec) & Downhill and Giant Slalom, Val d'Isere, France (21-22 Dec). You can see the women's downhill on Ski Sunday, which is on at 1705 GMT on BBC Two.
SNOWBOARDING - World Cup Slopestyle & Halfpipe, Copper Mountain, USA (18-22 Dec); World Cup Snowboard Cross, Lake Louise, Canada (21 Dec) - The snowboard slopestylers are at Copper Mountain. Halfpipe riders including Vancouver Olympian Ben Kilner are also in Colorado for their last World Cup of 2013.
FREESTYLE SKIING - World Cup Slopestyle & Halfpipe, Copper Mountain, USA (20-21 Dec), World Cup Ski Cross, Innichen, Italy (21-22 Dec), World Cup Moguls & Aerials, Beijing, China (21-22 Dec) - After finishing sixth at last week's Dew Tour event in America, Britain's Olympic medal hope James Woods is back in Stateside slopestyle action at the World Cup at Copper Mountain. Woods won silver in the first World Cup action in New Zealand in August.
SKI JUMPING - Men's World Cup, Engelberg, Switzerland (20-22 Dec); Women's World Cup, Hinterzarten, Germany (21-22 Dec): Reigning World Cup ski jumping champion Sara Takanashi has been setting the pace this year and will want to continue that run in Germany.
There is also Nordic Combined and Cross Country action next weekend in various venues around Europe.
LAST WEEK'S HIGHLIGHTS
BOBSLEIGH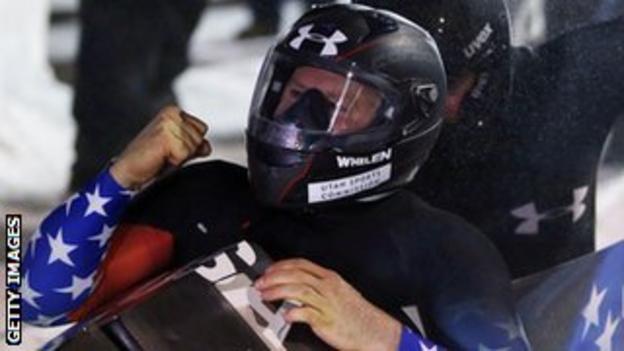 Great Britain's men enjoyed their first World Cup podium finish since 1997 with John Jackson and his four-man crew claiming silver in Lake Placid.
The result bodes well for the Winter Olympics and caps a remarkable recovery by Jackson, who ruptured his Achilles in the summer.
The British crew were 0.07 seconds off the gold medal, which was won by the USA, piloted by Olympic champion Steve Holcomb, who also won both two-man bob races.
In the two-woman bob, Paula Walker, paired up for this event with Gillian Cooke, was 13th in a race won by Canadian Kaillie Humphries, who has cemented her status as clear favourite to retain her Olympic title.
SKELETON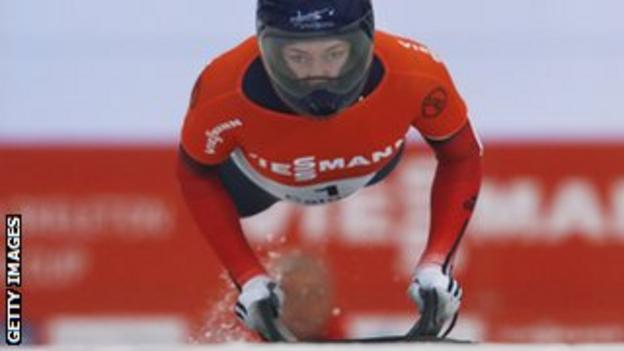 Great Britain's Lizzy Yarnold earned her second World Cup win of the season with victory in Lake Placid.
The 25-year-old earlier finished third in the first of two World Cup races held over the weekend and has now extended her lead in the overall standings.
Shelley Rudman, who was sixth and 11th in the weekend races, lies second overall at the halfway stage of the eight-race World Cup series.
Matt Antoine of the USA won the men's race, in which the top British finisher was 11th-placed Dom Parsons.
SHORT TRACK SPEED SKATING
Great Britain has named its team of five skaters who will compete in the Olympic Winter Games.
Biggest medal hope Elise Christie will compete in all three individual events (500m, 1000m and 1500m), as will Charlotte Gilmartin and Jack Whelbourne.
Two-time Olympian Jon Eley will compete in the 500m and 1000m, and Richard Shoebridge will compete in the 1000m.
Performance Director Stuart Horsepool said: "This is without doubt the strongest British team we have ever put together, and a number of the selected athletes have opportunities of bringing home medals from Sochi."
ALPINE SKIING
Ted Ligety failed in his quest for a fifth consecutive World Cup Giant Slalom win after missing a gate on the first run at a very icy Val d'Isere.
Aksel Lund Svindal and Bode Miller also failed to complete the course, with Austrian Marcel Hirscher skiing flawlessly to win.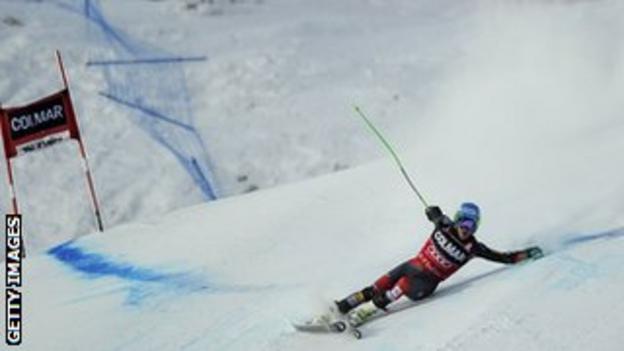 Hirscher's compatriot Mario Matt won the Slalom at the French resort while across the border in Switzerland, Tina Weirather of Liechtenstein won the women's Super G at St Moritz.
Also in St Moritz, Tina Maze put some patchy early-season form behind to finish third in the Giant Slalom, a race won by France's Tessa Worley..
World Slalom champion Mikaela Shiffrin is aiming to compete in the Giant Slalom in Sochi but the American teenager failed to complete her first run in St Moritz, as did overall World Cup leader Lara Gut of Switzerland.
Britain's Dave Ryding won the night Slalom in the Europa Cup in Italy, his best result ever in terms of world ranking points.
Meanwhile, Italy's Sofia Goggia, who was fourth in the Super G at the 2013 World Championships, will miss Sochi after rupturing the cruciate ligament in her left knee in a crash in the World Cup Downhill at Lake Louise in Canada earlier this month.
FIGURE SKATING
Britain's figure skaters have earned their place in the new team competition at the Winter Olympic Games in February. Standings released on Monday have Great Britain qualifying in the last of the 10 available places for the event.
That's good news for national champion Matthew Parr, who will now get to go to Sochi despite the fact that Britain did not qualify a skater for the individual men's event.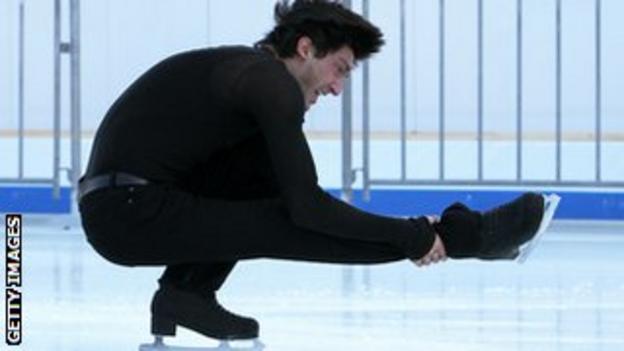 The skaters selected to represent Britain in Sochi are Jenna McCorkell (ladies' singles), Stacey Kemp and David King (pairs), Penny Coomes and Nick Buckland (ice dance), and Parr (men's singles).
Meanwhile, Evan Lysacek, who won gold in the men's figure skating in 2010, will not be able to defend his title. The American announced this week that he will not have recovered from a hip injury in time to compete in Sochi in February.
FREESTYLE SKIING
James Woods, one of Great Britain's leading medal hopes in Sochi, was sixth in the Ski Slopestyle at the Dew Tour in Breckenridge, after qualifying for the final in first place in a strong field. Rowan Cheshire impressed with some solids spins to finish seventh in the Ski Halfpipe final.
It was a frustrating weekend for Britain's Ski Cross racers at the World Cup event in Val Thorens - Emily Sarsfield crashed in her heat while Ed Drake just missed out on a place in the finals.
Britain's Ellie Koyander came 32nd at the Mogul World Cup in Finland, while Harry Gillam was 24th in the World Cup Aerials in China. Max Willis didn't finish.
Former X Games champion Jen Hudak of the USA is still hoping to compete in Sochi despite partially tearing her cruciate ligament.
SNOWBOARDING
Greg Bretz upset double Olympic Snowboard Halfpipe champion Shaun White in the first of five US Olympic selection events at the Dew Tour in Breckenridge.
White sprained an ankle in the Halfpipe, which caused him to pull out of the Slopestyle, which was won by his big rival Mark McManus of Canada.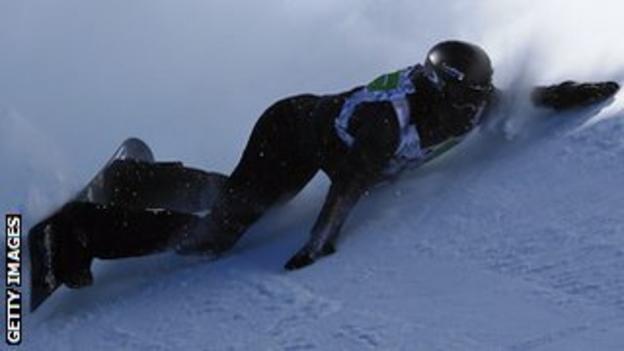 Britain's Aimee Fuller came seventh in the Snowboard Slopestyle finals at the Colorado resort.
And there was more good form from Jamie Nicholls, who was second in the Dew Tour rail jam, confirming him as one of the world's best rail riders.
In the Snowboard Halfpipe World Cup in Finland, Britain's Dom Harington was 26th in a strong field, representing a good start to the season as he tries to stay in the top 40 in the world rankings.
CROSS COUNTRY
Britain's Andrew Young earned his first ever World Cup points with 29th in the Freestyle Sprint (won by Norway's Anders Gloeersen) in Davos, Switzerland. Teammate Andrew Musgrave was 34th, following on from a creditable 36th in the 30k freestyle event, won by Maurice Manificat of France.
His sister Posy Musgrave was 51st in the Freestyle Sprint race. Norway's Marit Bjoergen, who won five medals at the 2010 Winter Olympics, leads the overall standings after winning both of the weekend races.
LUGE
Germany's Natalie Geisenberger made it five wins from five at the World Cup event in Park City, USA.
In the men's race, 39-year-old Italian Armin Zoeggler notched up a remarkable 56th individual World Cup victory. World champion Felix Loch, who was fifth in Park City, heads the overall standings going into the Christmas break.
Tobias Wendl and Tobias Arlt won their fourth race of the season in the doubles, while Germany also triumphed in the team event.
Britain's Adam Rosen missed qualifying for his third World Cup race of the season after coming 18th in the Nations Cup in Park City. At the mid-season break, he is ranked 35th in the world.
CURLING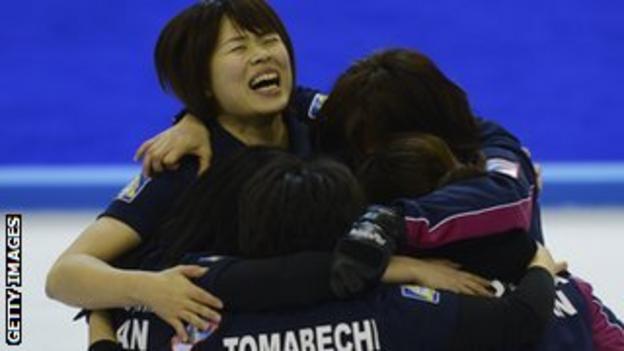 The curling line-up for the 2014 Winter Olympics is complete after the final qualifying event in Germany at the weekend.
Germany and the USA booked their spots in the men's competition, while China and Japan earned the final places in the women's event.
SKI JUMPING
Three-time Olympic gold medallist Thomas Morgenstern was airlifted to hospital after a crash on Sunday.
The news looks better than originally feared, with the initial diagnosis suggesting the Austrian, who had enjoyed his first World Cup victory in almost two years the day before, suffered a fractured finger, cuts and heavy bruising.
Polish jumper Kamil Stoch won the second event.
BIATHLON
Britain's Lee Jackson secured his third Olympic standard of the season at the World Cup in France, but missed qualifying for the weekend's Pursuit race by just 10 seconds.
ICE HOCKEY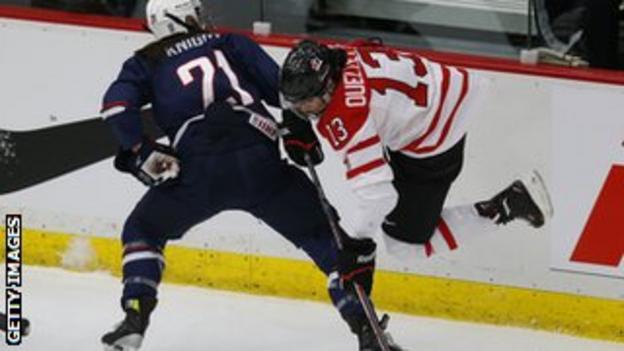 With less than two months before the 2014 Winter Olympics, Dan Church, the head coach of Canada's women's team, has resigned.
Canada have won gold at the last three Olympics but Church said: "If there isn't confidence in what I'm doing, I need to step aside and let the team move on."
To complete a miserable weekend, they lost 5-1 in a game with their arch-rivals USA.
OTHER NEWS
Tennis legend Martina Navratilova has accused the International Olympic Committee (IOC) of not doing enough to defend the rights of gay athletes ahead of the Winter Olympics.
Navratilova's comments came the day after IOC president Thomas Bach had stated athletes should avoid making any kind of political statement during the Games.
Bach also revealed that Russia intends to set up public protest zones during the Winter Olympics.
The presidents of France and Germany will not be attending the Games in Sochi.
The IOC has announced that it will provide £12m to fund the fight against doping and match-fixing.
A 73-year-old Russian man died of a heart attack after carrying the Olympic flame in the Torch Relay.
After unseasonably heavy snow fell near the Olympic venues this week, Russian meteorologists are optimistic there will be no shortage of snow for the Games in February.