Figure skating: GB champions target Sochi 2014 top eight
By Ollie Williams
BBC Olympic sports reporter
Last updated on .From the section Winter Olympics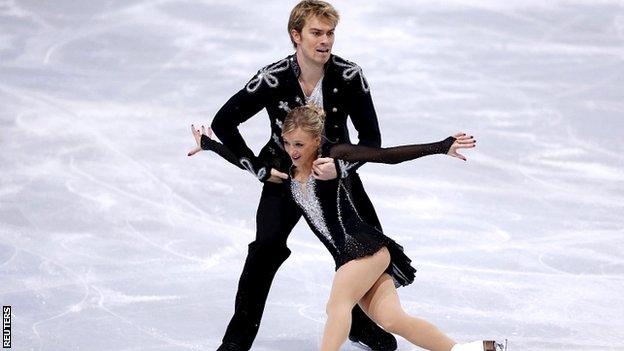 British ice dancers Penny Coomes and Nick Buckland have set their sights on a top-eight finish at Sochi 2014 after this week's British Championships.
Coomes and Buckland, both 24, won their third GB title in a row in Sheffield.
"Top eight in the world is realistic but we have a lot of things to sort out," Buckland told BBC Sport.
Jenna McCorkell won the ladies' event. Stacey Kemp and David King are also set to be named as Team GB's pairs skaters despite finishing second on Saturday.
Amani Fancy and Christopher Boyadji scored 141.28 points on their senior British debut to better Kemp and King's disappointing 132.07, breaking the latter's run of eight consecutive British titles.
However, selectors are still expected to send Kemp and King to their second Winter Olympics on the back of other factors such as international results.
"It was completely unexpected for us. We're just so happy," said Oman-born 16-year-old Fancy, whose skating partner Boyadji switched nationality from France earlier this year.
"We are targeting the 2018 Olympics."
McCorkell's score of 142.88 saw her cruise to victory in the ladies' event.
The Northern Irish 27-year-old, collecting her record 11th consecutive British title, is looking to improve on a 29th-place finish at Vancouver 2010.
Coomes and Buckland, who grew up in Berkshire and Nottingham respectively but now live and train in the US state of New Jersey, are shaping up as Britain's strongest prospects for Sochi.
The duo finished 20th at Vancouver 2010 but have since posted two top-six finishes at the European Championships, alongside 13th at this year's World Championships, and believe they have matured as skaters.
However, their preparations for this Olympic campaign have been disrupted by heart surgery to correct Buckland's irregular heart rate - a condition known as tachycardia.
"We just need to go away and train now," said Coomes, who suffered an uncharacteristic fall on Friday as the couple skated to an overall total of 147.10, comfortably clear of their rivals.
"This year has been very scattered. We'd have a big chunk of training, then something would happen, then a couple of weeks, then another competition.
"I feel like everything has been broken up. I just want to get back to America now and fix everything."
Buckland added: "We'll hit it head-on at the Europeans in January.
"We did that last year - we didn't have good results in the autumn, we went away and hit it really hard over Christmas, and we came out as completely different people at the Europeans."
The National Ice Skating Association and British Olympic Association are expected to confirm the Olympic squad in December.
Britain will have no entrant in the men's contest, and a berth in the team event - new for Sochi 2014 - is unlikely.
Matthew Parr won the British men's title on Saturday, scoring 173.31 to defeat Lewis Gibson (161.25).