Sochi 2014: Winter Olympics sports this week
Last updated on .From the section Winter Olympics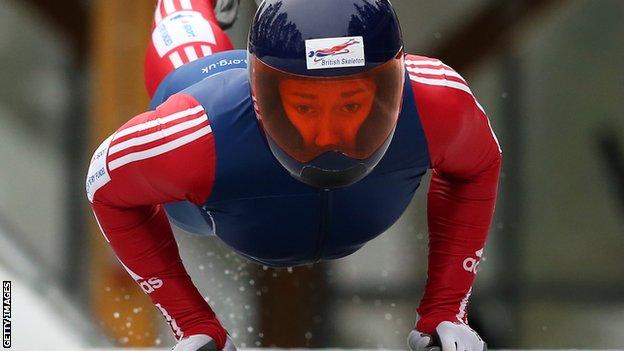 MAJOR EVENTS THIS WEEK
SKELETON - World Cup, Park City, Canada (2-7 Dec): Fresh from medals at the World Cup opener last weekend, GB's skeleton team head for Canada.
BOBSLEIGH - World Cup, Park City, USA (2-7 Dec): Britain's John Jackson continues his comeback from injury. It's a double-header for the women so there are two chances for Paula Walker to make an impression.
ALPINE SKIING - Men's World Cup Downhill, Super G & Giant Slalom, Beaver Creek, USA (6-8 Dec) & Women's World Cup Downhill & Super G, Lake Louise, Canada (6-8 Dec): All eyes will be on Olympic Downhill champion Lindsey Vonn, who is scheduled to make her comeback from injury. TJ Baldwin and Dougie Crawford will be flying the flag for Britain.
FIGURE SKATING - Grand Prix Final, Fukuoka, Japan (5-7 Dec): The finale of the Grand Prix season. Defending champion Daisuke Takahashi has pulled out with a bruised shin but the top-class field is headed by three-time world champion Patrick Chan. Olympic silver medallist Mao Asada of Japan will start as favourite in the ladies' singles while there will be a much-awaited clash between American ice dancers Meryl Davis and Charlie White and their Canadian training partners Tessa Virtue and Scott Moir.
Meanwhile, Olympic champion Yuna Kim will make her comeback from a foot injury at a lower-tier event in Zagreb.
SNOWBOARDING - World Cup, Montafon, Austria (6-8 Dec): GB snowboard cross star Zoe Gillings installed a replica start gate in her back garden in Leeds over the winter. The two-time Olympian will get the chance to see if her hard work has paid off in the season curtain-raiser in Austria.
FREESTYLE SKIING - World Cup, Nakiska, Canada, (6-8 Dec): Britain's Emily Sarsfield and former Alpine skier Ed Drake begin their ski-cross season in Canada. Drake competed in the alpine disciplines in Vancouver; his bid to appear in a second Games starts in earnest here. Sarsfield will be equally desperate for a strong start to the season having missed the 2010 Winter Olympics through injury.
CROSS COUNTRY SKIING, NORDIC COMBINED & SKI JUMPING - World Cup, Lillehammer, Norway (7-8 Dec): It's the first women's World Cup ski jumping event of what will be an historic season, with their Olympic debut looming.
LUGE - World Cup, Whistler, Canada (6-7 Dec): The luge season continues with the fourth leg of the World Cup.
BIATHLON - World Cup, Hochfilzen, Austria (3-8 Dec): Sochi hopefuls Lee Steve Jackson and Kevin Kane are among the five Britons scheduled to compete.
SPEED SKATING - World Cup, Berlin, Germany (6-8 Dec): The last World Cup event of the season.
LAST WEEK'S HIGHLIGHTS
Scottish curlers earn medals at the European Championships, while Lizzy Yarnold wins the opening World Cup Skeleton race of the season.
CURLING
Scotland's women had to settle for silver at the European Championships in Stavangar, Norway, after being beaten by Sweden in the final.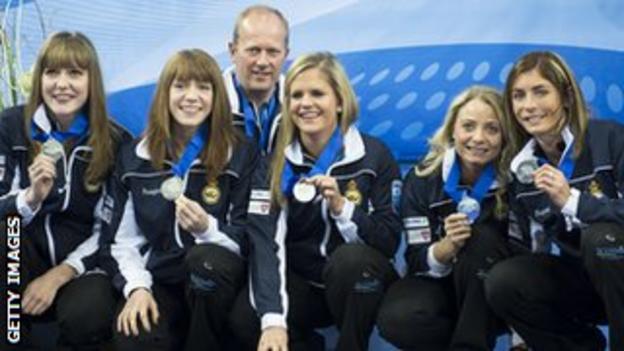 Skipper Eve Muirhead and her team had won all nine of their round-robin matches, which included a victory over the Swedes, but lost 10-5 in the gold-medal match.
In contrast, skipper David Murdoch was "delighted" to snatch bronze after a double in the final end saw Scotland's men overhaul Denmark 7-6.
Switzerland beat Norway in the men's final.
SKELETON
British sliders made a great start to the World Cup season but the opening weekend in Calgary was not without controversy.
Britain's Lizzy Yarnold finished second but was promoted to the gold-medal position when American Noelle Pikus-Pace was disqualified after her sled failed a post-race inspection.
World champion Shelley Rudman was fourth with Donna Creighton 18th.
Meanwhile, Dominic Parsons became the first British man to win a World Cup skeleton medal for three years when he finished third in the men's event behind Martins Dukurs of Latvia and Alexander Tretiakov of Russia.
Britain's former world champion Kristan Bromley was 15th and Ed Smith 27th.
BOBSLEIGH
The Bobsleigh World Cup season also got under way in Calgary, with Britain's John Jackson competing for the first time since rupturing his Achilles over the summer.
Jackson finished 17th in the four-man bob and 21st in the two-man - both events were won by American Steven Holcomb.
In the women's event, Britain's Paula Walker and Rebekah Wilson finished 10th behind Olympic and world champion Kaillie Humphries of Canada.
ALPINE SKIING
Olympic champion Aksel Lund Svindal showed he is likely to be the man to beat again in Sochi after winning the World Cup Super G at Lake Louise for a record fifth time. The Norwegian finished fourth in the Downhill, which was won by Italian Dominik Paris.
Britain's Dougie Crawford failed to finish the Downhill while TJ Baldwin also skied out during his first run in the Super G.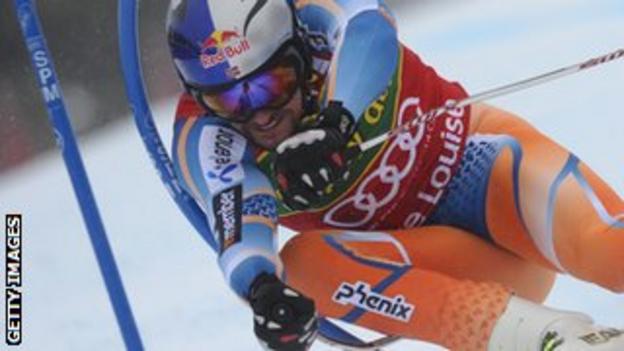 In the women's World Cup at Beaver Creek, Switzerland's Lara Gut won the season-opening Downhill and the Super G and now leads the overall standings by 80 points.
Gut skied out of the the Giant Slalom, which was won by Sweden's Jessica Lindell-Vikarby ahead of American teenager Mikaela Shiffrin. It was a first World Cup podium finish in Giant Slalom for Slalom world champion Shiffrin, who has an eye on competing in both events in Sochi.
Lindsey Vonn bypassed Beaver Creek after re-injuring her knee, and the will she/won't she compete looks like it may be a recurrent theme in the build-up to Sochi.
The American, who is due to compete at Lake Louise this weekend, says she needs surgery but will delay it in an effort to be fit for the Winter Olympics.
FIGURE SKATING
Jenna McCorkell collected a record 11th national title at the British Championships in Sheffield.
Team GB has yet to name its squad for Winter Olympics but the Northern Irish skater is sure to be selected for the ladies' singles event.
Also Sochi-bound are ice dancers Penny Coomes and Nick Buckland, who won their third national title in a row.
Stacey Kemp and David King were denied a ninth consecutive British title after finishing behind Amani Fancy and Christopher Boyadji, but are still expected to be on the plane to Russia in February.
Matthew Parr won the men's title but GB have not qualified for a place at the 2014 Games in that discipline.
BIATHLON
Britain's Lee Jackson added two Olympic qualifying standards - taking his tally to six - with solid performances at the biathlon World Cup in Ostersund, while Kevin Kane added one to his four.
Sochi hopeful Amanda Lightfoot - the only British women with any Olympic qualifying standards - missed the event after picking up a virus.
SNOWBOARD
Jamie Nicholls won the Hail the Rail competition at Freeze Festival in London, the last big home event for British riders before the Winter Olympics.
The event on Clapham Common had a different format to previous years, but this suited Nicholls as it was more like a rail feature from a slopestyle course, which is what he hopes to compete in in Sochi in February.
Most of the British team are already in the USA getting ready for the start of the World Cup season later this month, and preparing for the last qualifying events before Sochi.
LUGE
The third World Cup of the season once again saw German athletes dominate, with Natalie Geisenberger making it three wins from three so far this season.
World champion Geisenberger delighted home fans in Winterberg by leading home a German one-two-three in the women's event, beating Tatjana Huefner and Anke Wischnewski.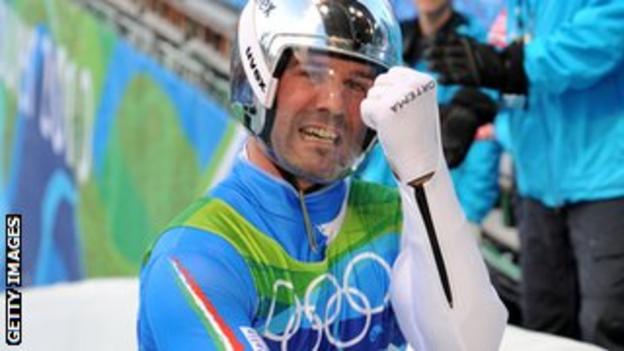 However, a mistake by Geisenberger in the team event cost Germany the chance of winning all four gold medals of the weekend. They finished ninth, with Italy winning ahead of the USA and Austria.
Chris Eissler was the surprise winner of a weather-hit men's singles, with second-placed Armin Zoeggler of Italy earning his 100th World Cup podium 21 years after his first. Germans David Moeller and Olympic champion Felix Loch were third and fourth.
World Champions Tobias Wendl and Tobias Arlt of Germany won the doubles race.
Britain's Adam Rosen finished 25th in the Nations Cup race, meaning he failed to qualify for a World Cup run.
SPEED SKATING
Dutch legend Sven Kramer cruised to a comprehensive win in the 10,000m at the latest World Cup round in Astana.
Other winners in Kazahstan included South Korea's Lee Sang-Hwa, who will be favourite for gold in Sochi after another win in the 500m.
And it was a good weekend for American skaters with Shani Davis winning the men's 1000m and Heather Richardson and Brittany Bowe coming first and second in the women's 1000m.
SKI JUMPING, CROSS COUNTRY SKIING & NORDIC COMBINED
After withdrawing from last week's event because of the high winds, defending World Cup Ski Jumping champion Gregor Schlierenzauer notched up his first win of the season in Kuusamo in Finland. The second competition was cancelled due to the weather.
In Cross Country Skiing, Norway's triple Olympic champion Marit Bjoergen won the 10km after she finished second to Justyna Kowalczyk of Poland in the 5km. Kowakczyk also won the sprint.
In the Nordic Combined, world champion Eric Frenzel of Germany began the new World Cup campaign where he left off the last - with a win. Norway won the team event from Germany and Japan.
OTHER NEWS
While the likes of British skier Chemmy Alcott have had to host fundraising evenings in their efforts to get to Sochi, US snowboarder Shaun White has reportedly splashed out on a $9m Malibu mansion.