Sochi 2014: Winter Olympics sports this week
Last updated on .From the section Winter Olympics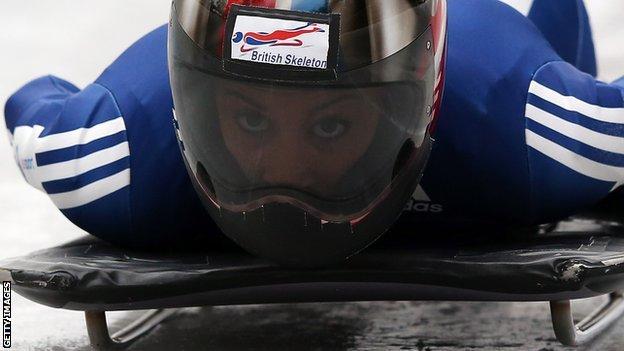 MAJOR EVENTS THIS WEEK
SKELETON - World Cup, Calgary, Canada (26-30 Nov): The first Skeleton World Cup of the season will feature British world champion and 2006 Olympic silver medallist Shelley Rudman along with rising star Lizzy Yarnold and Donna Creighton, while Team GB's men's team comprises former world champion Kristan Bromley, Dominic Parsons and Ed Smith.
With results from the first seven World Cup races deciding how many sliders Team GB will be able to take to Sochi, it is important to begin the season well.
BOBSLEIGH - World Cup, Calgary, Canada (26-30 Nov): Also in Calgary, the Bobsleigh World Cup kicks off. British pilot John Jackson is set to make a remarkable comeback just four months after a serious Achilles injury.
CURLING - The European Championships in Stavangar continue, with GB's women looking in good form so far.
ALPINE SKIING - Men's World Cup Downhill & Super G, Lake Louise, Canada (30 Nov-1 Dec) & Women's World Cup Downhill & Super G, Beaver Creek, USA (29 Nov-1 Dec): The World Cup season, which began at the end of October, now gets going in earnest, with the first Downhills of the season.
American Lindsey Vonn will be absent at Beaver Creek but over in Canada, Team GB will be represented by TJ Baldwin and Dougie Crawford.
Meanwhile, British slalom skier Dave Ryding is set to begin the defence of his European Cup title at Trysil in Norway.
FIGURE SKATING - British National Championships, Sheffield (26 Nov-1 Dec): Jenna McCorkell, ice dancers Penny Coomes and Nick Buckland, and the pairs team of Stacey Kemp and David King will be looking to nail down their Sochi places.
LUGE - World Cup, Winterberg, Germany (30 Nov-1 Dec): The luge season continues with the third leg of the World Cup.
SPEED SKATING - World Cup, Heerenveen, Netherlands (29 Nov-1 Dec): The third of this season's four World Cup events.
CROSS COUNTRY SKIING, NORDIC COMBINED & SKI JUMPING - World Cup, Kuusamo, Finland (29 Nov-1 Dec): The first Nordic Combined and Cross Country Skiing events of this season.
Britain's cross country skiers will be competing in Sweden and in Norway.
BIATHLON - World Cup, Ostersund, Sweden (22 November-1 December): It's the first World Cup of the 2013-14 season, and with just one GB spot in Sochi, Lee Jackson and Kevin Kane will both be looking for a good start to the campaign.
LAST WEEK'S HIGHLIGHTS
Eve Muirhead makes a good start at the European Championships, German luge domination continues, and Lindsey Vonn vows to make a quick return from her latest injury setback.
CURLING
The European Championships are currently taking place in Stavangar, Norway.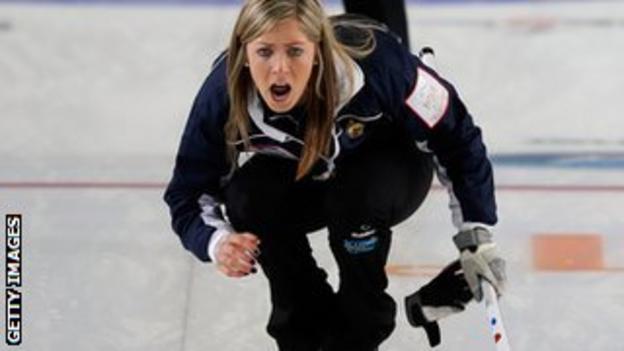 As of Monday, Scotland's women, led by 2011 European champion Eve Muirhead, had won their first four group matches, including one against Russia, who beat them in last year's final.
But Scotland's men, skippered by three-time European champion David Murdoch, made a patchy start, winning three but losing two of their first five matches.
FIGURE SKATING
The sixth and last Grand Prix of the season took place in Moscow at the weekend. The top six in each discipline from the season's Grands Prix will compete in next month's Grand Prix final, which will be a key form indicator ahead of Sochi.
Among the winners in Russia were 15-year-old Julia Lipnitskaia, who edged out former world champion Carolina Kostner of Italy by less than one point.
Tatsuki Machida of Japan won the men's event after Russian Maxim Kovtun fell in his free progamme. Spain's Javier Fernandez won bronze.
Aliona Savchenko and Robin Szolkowy of Germany won the pairs while Russians Ekaterina Bobrova and Dmitri Soloviev won the ice dancing event.
ALPINE SKIING
Olympic downhill champion Lindsey Vonn will make her return from injury at a World Cup event in Canada next month despite partially tearing her anterior cruciate ligament in a training crash last week.
The American will miss her scheduled comeback at Beaver Creek in the USA this weekend but hopes to compete in Lake Louise the week after.
"Don't worry guys, this is only a temporary setback," Vonn said on her Facebook page. "Nothing will keep me from picking myself back up and continuing to fight for my dreams."
LUGE
Germany dominated at the second World Cup event of the season, winning all four races in Innsbruck-Igls.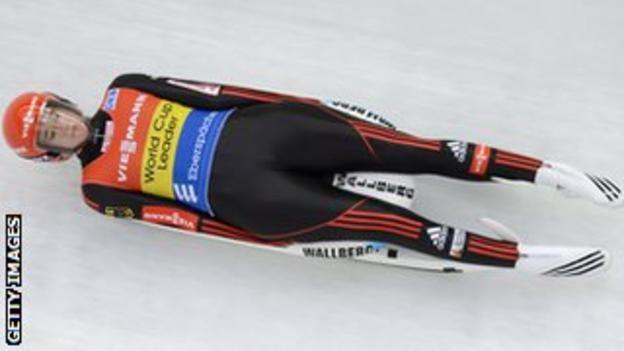 Olympic champion Felix Loch finished first in the men's event in Austria, ahead of German team-mate David Moeller. There was also a German one-two in the doubles with Toni Eggert and Sascha Benecken beating Tobias Wendl and Tobias Arlt.
Meanwhile, world and European champion Natalie Geisenberger made it two wins from two this season, finishing ahead of team-mate and Olympic champion Tatjana Huefner, who was returning from a back injury.
The Germans then wrapped up the weekend with victory in the team relay.
Britain's Adam Rosen qualified for the main race, where he finished 24th.
SHORT TRACK SPEED SKATING
As expected, Great Britain have earned three men's places and two women's spots for the Winter Olympics. The ISU, the sport's world governing body, has confirmed the allocation for each country after the conclusion of the Olympic qualifiers last weekend.
Only China and Canada earned the maximum number of places of 10 skaters.
BOBSLEIGH
Britain's Lamin Deen and Toby Olushi picked up a bronze medal in race five of the second-tier North American Cup, in Park City.
SKI JUMPING
Windy conditions in Klingenthal played havoc with the first World Cup event of the season.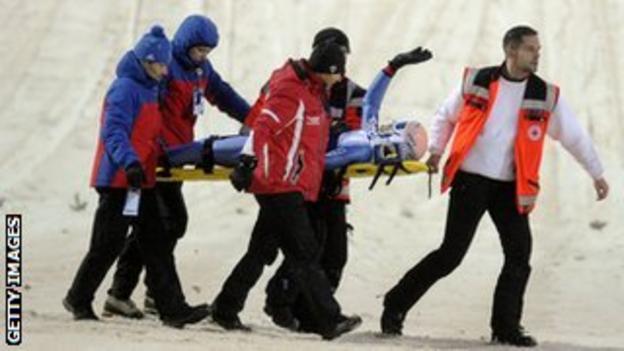 Previously unheralded Pole Krzysztof Biegun took advantage of his early start time to win his first World Cup event.
Veteran Austrian jumper Andreas Kofler was blown off course and had to be stretchered off after losing his balance on landing and crashing, while reigning World Cup champion Gregor Schlierenzauer and Anders Bardal both decided to forfeit their turns rather than jump.
The final round was cancelled but the result stood.
CROSS COUNTRY SKIING
Britain's cross country skiers got their season off to a solid start at events in Beitostoelen, Norway and Bruksvallarna, Sweden.
Andrew Musgrave enjoyed one of his best ever classic results to finish 13th in Norway, while his sister Posy edged closer to the BOA qualification standard by finishing 14th in the prologue in Sweden. There were also a couple of promising performances from Callum Smith.
OTHER NEWS
The Australian Olympic Committee (AOC) has imposed stringent alcohol restrictions on its athletes at Sochi 2014. New rules state athletes are allowed to consume alcohol responsibly outside the Olympic village after their events but no alcohol will be permitted in the Olympic Village or on the return flight to Australia following the Games.
The Russian government has announced that its athletes who win Olympic medals in Sochi will receive a financial bonus. Gold medal-winners will get £75,000.
After visiting the North Pole and Space, the Olympic torch has now been taken underwater, visiting Lake Baikal, the world's deepest lake.