Scots weightlifters head to Cardiff for Celtic Nations event

By Keir Murray
BBC Sport Scotland
Last updated on .From the section Weightlifting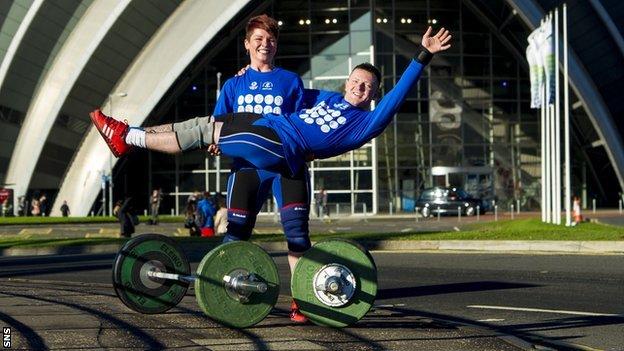 A dozen of Scotland's top weightlifters will compete in the Celtic Nations Championships in Cardiff on Saturday.
The tournament represents a chance for the athletes to achieve the qualification standard for the Scotland Commonwealth Games team.
Peter Kirkbride, Georgi Black and Sophie Smyth have already lifted the combined totals for the snatch and clean and jerk to cement their places.
The others have until the British Championships in April 2014 to do so.
Louise Mather, coached by Ray Cavanagh in Glasgow, lifts in the 69kg bodyweight class and has already surpassed the 164kg combined qualification target but she will not be competing against Wales and Ireland in Cardiff.
Instead, Kilmarnock pair Black and Smyth will be joined by Greenock's Jane Armour and Glasgow trio Colette Will, Jenny McIntyre and Amy Lui.
For the Scotland men's team, Kirkbride is expected to replace fellow Kilmarnock Weightlifting Club athlete Graeme Kane at the competition.
The country's top-ranked lifter will be supported by Craig Carfray and Dale Cree - also from Charlie Hamilton's Kilmarnock club - Glasgow pair Haris Ansari and Callum Downie, and Zach Courtney from Edinburgh University.
Cavanagh, who operates his gym in Anniesland in Glasgow, told BBC Scotland that while Scotland could, technically, have a 15-strong team for the Commonwealth Games (one for each of the eight men's and seven women's categories), the final list to be sent to Commonwealth Games Scotland could be about half that.
"It would be great for the selectors if we had more than that qualifying but I don't think that is going to be the case," said Cavanagh, the Scotland team manager.
"The national squad was bigger at the start of this year but we reduced it to those who were under 20kg away from the qualifying total to try to concentrate on them.
"Anybody in the squad who meets the qualification standard should get in the Commonwealth Games team."
Kirkbride, Black, Smyth and Armour have had little time to recover from the Commonwealth Championships before they travel to Cardiff.
Mather could argue she is entitled to miss the Celtic Nations event after improving on her personal bests last week in Penang, Malaysia.
There she lifted 78kg in the snatch and 97kg in the clean and jerk for a 175kg total.
Delhi 2010 Commonwealth Games silver medallist Kirkbride snatched 142kg and clean and jerked 186kg for a 328kg sum.
Smyth, in the 58kg bodyweight class, managed a 65kg snatch and 80kg in the clean and jerk, while Armour (63kg) successfully lifted 65kg in the snatch and 85kg in the clean and jerk for a 150kg total.
Black, in the 69kg category, lifted 80kg and 100kg respectively.
That 180kg total is 3kg less than her personal best but still a massive 16kg more than required to make the Commonwealth team.
Indeed, her tally would be good enough to qualify in the women's 75kg class but she is considering dropping a weight class to improve her medal prospects in Glasgow.
"She is moving to the 63kg class and the combined qualification total for that is 155kg. She should achieve that quite easily," said Cavanagh.
"She has got to lose weight over a period of time. You can't do it too fast or you will lose muscle mass. You have to lose body fat so that you won't lose strength."
While three of the 12 Scottish athletes in Wales have already achieved their targets, others are hoping to hit the mark at the tri-nation competition.
Will, in the 53kg class, is 6kg away from her target of 138kg.
Cavanagh said: "In the last couple of months her strength has come up quite a bit. She is weighing 50.5kg and she has up to 53kg to go so she can put on a bit of weight, get that strength up and attain the qualifying weight."
Armour has lifted her target in the past but not in the qualification period stipulated by Weightlifting Scotland.
"She's only 5kg away. She requires a 155kg and she has done a 150. She knows she can do it. It's just getting it right on the day," explained the coach.
For McIntyre and Lui, the goals are that bit harder to meet.
"It's going to be tough but it's not impossible," was Cavanagh's assessment.
"They are in the 69-75kg class but they are about 10-20kg away from the totals they need, which makes it a lot harder in the time available to make the qualifying weight. We've only got until the British Championships in April."
Ansari, Downie, Cree and Courtney all hope to join Kirkbride at the Glasgow Games but must find that extra power in the coming months.
In the 69kg category, Carfray, like Armour, has met the qualification standard but not within the required time frame.