Zoe Smith's sister Yana makes weightlifting debut
By Nick Hope
BBC Olympic sports reporter
Last updated on .From the section Weightlifting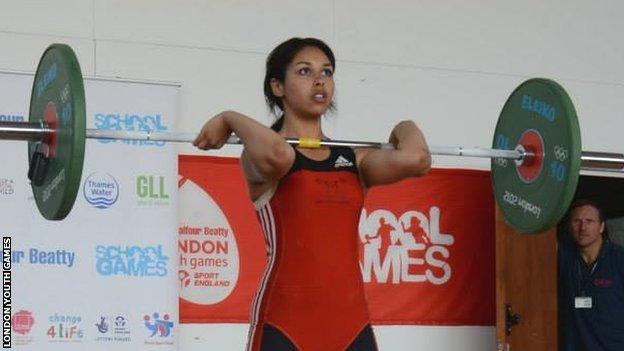 Yana Smith wants to follow in the footsteps of her Commonwealth bronze medal-winning sister Zoe after making her weightlifting debut.
British weightlifter Zoe Smith, 19, was third in Dehli 2010 and represented her country at the 2012 Olympics.
Yana, 16, has only been training for three weeks after agreeing to represent her borough Greenwich at last weekend's London Youth Games [LYG].
"I was a bit nervous but it was actually really fun," said Smith.
"My sister is a big inspiration to me so that's a big encouragement to carry on, try weightlifting, see how well I can do and perhaps give her a bit of competition."
The annual London Youth Games sees athletes aged between six and 19 compete for their boroughs in 31 sports. Wandsworth claimed the 2013 Jubilee Trophy.
Smith became involved after being contacted on Facebook by Greenwich's male competitor Denton Conteh, who was searching for a replacement for injured female lifter Sean Archer.
He thought Yana would take part in the weightlifting because of her connection with Zoe, but she had only tried out the sport a handful of times.
Competing in the same leotard her sister wore on her competitive debut back in 2007, the teenager achieved a personal best total of 70kg - lifting 30kg in the snatch category and 40kg in the clean and jerk phase, with her two scores then added together.
Zoe Smith's British record for the -57kg division, set at last year's Olympics, currently stands at 211kg - 90kg in the snatch category and 121kg in the clean and jerk.
"I don't think I can quite fill her [Zoe's] shoes but I'll give it a go," said Smith, who will begin studying for her A-levels in September.
"I wanted to take part because without a girl you can't make the full team, so I did it for Greenwich, but I'm really pleased with how it went."
Yana has made rapid progress whilst training with Zoe's former coach Andy Callard. But she admits competing alongside her elder sister at next year's Commonwealth Games in Glasgow may be a little ambitious.
"I want to try to do as well as I can in this - I feel like I'm going to carry this on and have another competition on 3 August, which I'll do a lot of training for," said Smith, who finished 14th out of the 19 competitors at the London Youth Games.
"I'm not at the moment aspiring for the Commonwealths like Zoe; I'm just seeing how I can do. But if I can do it, I would love to."
Zoe Smith and her Team GB Olympic team-mates will next compete at the British Weightlifting Championships on 13 July in Bangor, Wales.