Jack Oliver sets new personal bests at World Championships
Last updated on .From the section Weightlifting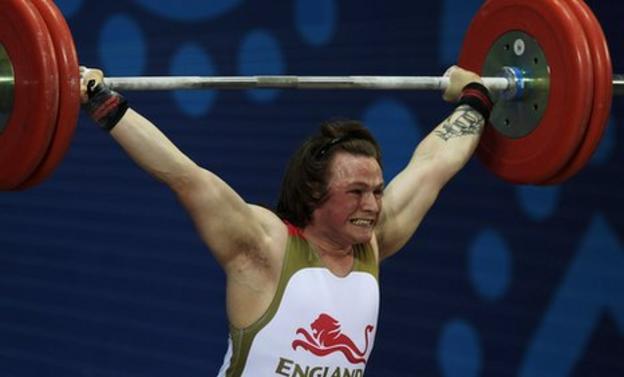 British Olympic hopeful Jack Oliver set two personal best scores in the 77kg category at the World Weightlifting Championships in Paris.
The 20-year-old achieved the Olympic qualifying B standard after lifting 140kg in the snatch and 160kg in the clean and jerk.
His 300kg performance broke under-20 and under-23 British records in the snatch and total categories.
Compatriot Halil Zorba failed to reach the B standard, with a total of 290kg.
Oliver, from Bexley, lifted nine kilograms more than the B standard but was the same distance off the A standard.
He bettered his performance at the recent Commonwealth Championships in South Africa when he set three new personal bests by lifting a total of 297kg - 137kg in the snatch and 160kg in the clean and jerk.
Zorba, 23, who is related to former world javelin champion Fatima Whitbread, put in an impressive display to set personal bests of his own and finish with a total of 125kg in the snatch and 165kg in the clean and jerk to walk away with a total of 290kg, just one kilogram short of Olympic qualifying B standard.
The men's 77kg competition continues on Thursday with 23 more lifters competing.
Oxana Slivenko of Russia won the women's 69kg gold medal after lifting 118kg in the snatch and 148kg in the clean and jerk.
The Championships are the first opportunity for British athletes to attain the Olympic qualifying standards and lay their claim for one of five possible spots at London 2012.
Three spots are available for men and two for women. Lifters have until the end of May to record two successful totals during competition at either the A or B standard of Olympic qualification.
Oliver joins Zoe Smith in hitting the B standard at the Championships being held at Disneyland Paris.