Zoe Smith to miss European Youths due to a back injury
By Nick Hope
BBC Olympic sports reporter
Last updated on .From the section Weightlifting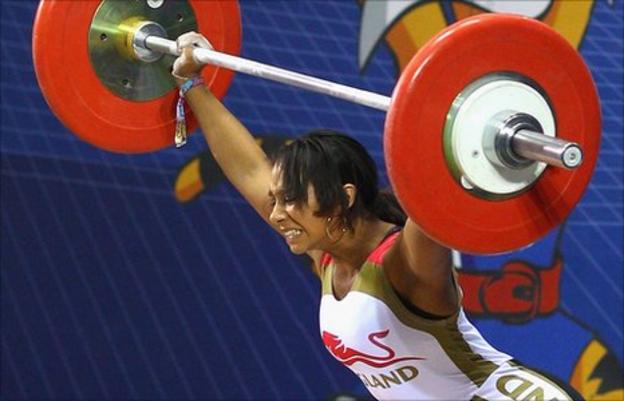 Commonwealth bronze medallist Zoe Smith has withdrawn from the Great Britain squad for the European Youth Championships, citing a back injury.
The 17-year-old from London is unlikely to return to lifting before November, when 2012 Olympic qualification begins.
"It's a recurring back injury, which a lot of weightlifters get," said Smith.
"It's annoying because I've got lots of important competitions coming up this year and it would have been nice to get a solid block of training in.
Speaking to BBC Sport, Smith added: "Dealing with injury is just part of being a professional athlete though and it's something that I'm going to have to live with."
It has been a difficult year for the teenager, who had her personal Olympic funding withdrawn by the sport's governing body just before Christmas - after a perceived lack of effort in training, which followed her success in Delhi.
However, Smith's funding was restored in February after a strong performance in a Tri-nations competition in Norway.
She subsequently postponed her academic studies to concentrate full-time on qualifying for the London Olympics and in June left London to join the rest of the British weightlifting team, full-time, at their National Performance Centre in Leeds.
"It's been tough and there are lots of things that I miss about home - I could write a book about it," reflected Smith.
"Not having my family around is hard because they are always really supportive, but I've learned to be more independent."
Smith sustained a shoulder injury whilst claiming silver at the World Youth Championships in Peru in May, but added that she hopes the GB weightlifting support team will help her overcome the injury problems before the key 2012 qualification events.
"The World Championships [in Paris in November] are going to be huge, because it will be my first big senior competition," she said.
"Obviously I did the Commonwealths last year, but the Worlds are another scale completely, so it would be a big step."
British Weightlifting have been granted five host-nation places for the 2012 Olympics, two of which will be for female lifters.
"The World Championships will be my first chance to qualify for the Olympics, so if I do my total, that would put me one-step closer to making London," added Smith.
Should Smith be unable to compete in Paris, or fail to attain the desired lift, she will have a second opportunity at the 2012 test event, which takes place 10-11 December at London's ExCeL Centre.
Despite Smith's withdrawal, British Weightlifting will still send a three-strong team to the European Youth Championships, with Alex Collier, Sonny Webster and Josh Farghaly all due to travel to Poland later this month.