Bellator 259: Welsh bantamweight Brett Johns excited for debut against Daniel Sabatello
Last updated on .From the section Wales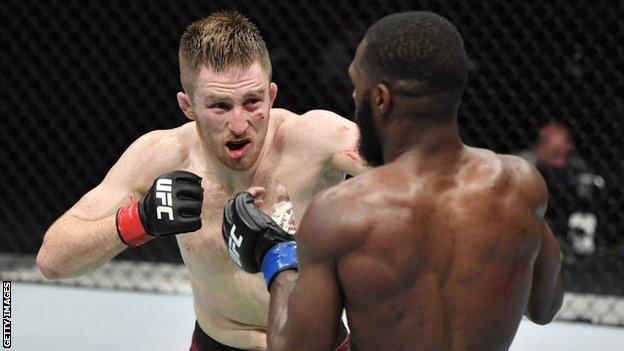 Mixed martial arts: Bellator 259
Venue:
Mohegan Sun Arena, Uncasville, Connecticut, United States
Date:
Friday, 21 May
Coverage:
Watch live on BBC iPlayer from 22:30 BST
Welsh bantamweight Brett Johns will make his Bellator mixed martial arts debut when he faces American Daniel Sabatello in Connecticut on Friday.
It will be the Swansea fighter's first bout since leaving the UFC in October 2020, after the 29-year-old failed to agree a fee for his next fight.
"It's been a rollercoaster of feelings and problems," Johns said.
"We were meant to fight with the UFC in November, unfortunately we couldn't agree to a contract with them."
Having opted to make the switch to Bellator, Johns has no doubt he is on the right career path.
"You can tell I made the right decision from them signing the rights now where they're able to show this on BBC iPlayer on Friday nights, it was a good move," Johns told BBC Sport Wales.
"Even if I fall flat on my face right now it doesn't really matter, I still feel I made the right move.
"Obviously the money was a big part of this. I look at these fighters who have been in this sport for a very long time and it scares me... these guys haven't got a penny to their name and I really don't want to fall in the same category. It's really sad to watch that happen.
"But in the same breath I have plans that I want to get going and it will require money, such as opening my own gym, paying off my house like normal things.
"This money will be going on my family's future and the people who have really helped me out at this point, it will be really nice to give them some reward.
"But I'd be lying if I said I'm not concentrating on this belt [title], that's what I want, I want to be able to fight for the belt.
"We've got a stiff test [against Sabatello] that we've got to get through first before I can make that crusade to that belt and it's in no way an easy fight.
"But I'm happy, stylistically I'm happy, I've got a plan up my sleeve and we'll see if we can work it out on the night."
Johns' build-up to his Bellator debut was disrupted when initial opponent Matheus Mattos was forced to withdraw after the Brazilian tested positive for Covid-19.
"One minute I'm fighting a guy who's a Brazilian striker and now I'm fighting an American wrestler," Johns said.
"So it's at opposite ends of the scale really, but it doesn't really matter as I train in the best team in the UK.
"I'm buzzing, I'm ready to go, all the hard work's been done - all I've got to do now is show up. I've got a good feeling about this one."
There are three other British fighters on the card, which sees Cris Cyborg put her featherweight title on the line against Leslie Smith in the main event.
England's Fabian Edwards and Alfie Davis, plus Northern Ireland's Leah McCourt are the other home fighters in action at the Mohegan Sun Arena.
You can listen to the full interview with Brett Johns on Radio Wales Sport, Friday, 21 May, BBC Radio Wales from 19:00 BST and on demand.