Melissa Courtney eyes cross country title after two-year health battle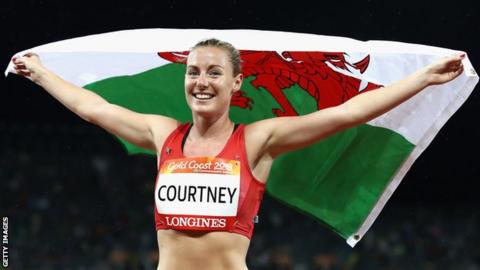 2018 European Cross Country Championships
Venue: Tilburg, Netherlands. Date: Sunday, 9 December Time: 09:30-15:00 GMT
Coverage: BBC Red Button, Connected TV and online
As she prepares to run her final race of the year, Melissa Courtney is relieved to put two years of health problems behind her.
The Welsh Commonwealth Games bronze medallist was diagnosed with a rare metabolic disorder last year having been in and out of hospital.
"There were these times where I became really ill and didn't know what was wrong," the 25-year-old said.
But now Courtney says her medication has "solved so many things"
She is set to compete in Sunday's European Cross Country Championships in the Netherlands.
Courtney is part of an eight strong Welsh contingent which also features squad Dewi Griffiths, Charlotte Arter, Kris Jones, Charlie Hulson, Jake Heyward, Matt Willis and Cari Hughes.
'Delirious and confused'
Poole-born Courtney first fell ill in 2015 during a training camp in Portugal and spent five days in intensive care.
"The doctors didn't know what was wrong and I had so many tests that year that still didn't actually resolve the issue," Courtney said.
"It seemed to be fine until 2017 when I was in a camp with Welsh Athletics and it happened again.
"I was really ill, delirious and very confused in hospital and after that Welsh Athletics really helped me to try and solve the problem and get to the bottom of it before the Commonwealths.
"We decided to see new specialists and it just happened, it suddenly clicked. One doctor said 'I've seen this before' and knew what it was.
"It just happens that I have an inherited metabolic disorder which means that my body struggles to digest protein.
"It's quite difficult for an athlete but once I'm on medication, which I now have to take daily, it seems to have been resolved."
Since being diagnosed, Courtney won gold at last year's European Cross Country Championship in the relay and secured 1500m bronze in the 2018 Commonwealth Games
She also competed at this year's European Championship in Berlin.
"It wasn't something I was aiming for," Courtney said of her inclusion in the British team.
"I thought I'd just go to the trials and see what happens. I really surprised myself and I'm really looking forward to seeing what I can do.
"There's a lot of competition in the European Cross County Championship.
"But I feel a lot of the girls who are probably the favourites are the girls I'm competitive with on the track.
"So I don't see why I can't get in the mix and give myself the best possible chance."