Geraint Thomas joins the legends of Welsh sport - but who is the greatest?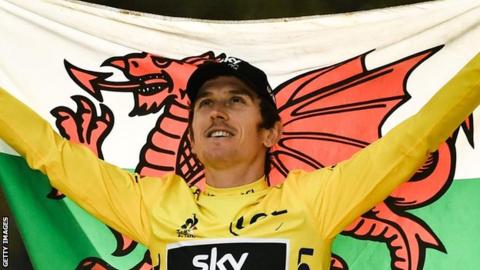 As Geraint Thomas crossed the finishing line on the Champs-Elysees in Paris on Sunday he sealed his place amongst Wales' sporting elite.
The 32-year-old is the first Welshmen to win the Tour de France - and just the third Briton after Sir Bradley Wiggins and Chris Froome.
The Tour is the crowning glory of a professional career that includes two Olympic track gold medals, three World track golds and the 2014 Commonwealth Games road race title.
Thomas and Nicole Cooke - who won the Grande Boucle Féminine Internationale, the Giro d'Italia Femminile, and the World and Olympic double in 2008 - are without doubt the two finest cyclists to come out of Wales.
But if Thomas has now written his chapter in Welsh sporting folklore, who are some of the other legends he joins and what does it take to be counted as truly 'great'?
Mostly it is earned through achievement or through comparison with their peers, and often with a dollop of character thrown in.
Sometimes it needs the distance of time to truly measure an athlete's impact, while comparing between different sports is often subjective - steak or lobster, blue or green (red dragon in yellow jersey if you are Thomas), left or right?
Wales has a record of sporting excellence that far outstrips the size of its population and narrowing down any selection is no easy task. It is impossible to include everyone and others might take a different view,
Let the debate start as we outline some of the legends we think can vie with Thomas for the title of Wales' greatest sporting icon.
Gareth Bale
Alongside Thomas - his fellow Whitchurch High School alumni - footballer Gareth Bale is the other name on our list still competing at the highest level. When Real Madrid paid a then world record £85.3m transfer fee to sign him in 2013, it underlined just how special a player he is.
Wales' youngest goal scorer became his nation's record scorer in March this year when a hat-trick in the China Cup saw Bale reach 29 goals for his country, surpassing Ian Rush's mark of 28. By the time he retires the 29-year-old will have stretched that mark even further.
Seven of those goals propelled Wales to the 2016 European Championships - their first major finals since 1958 - and Bale added another three in France as Wales reached the semi-finals.
At club level Bale's honours include four Champions League titles with Real, including a match-winning two-goal performance off the bench as the Spanish giants beat Liverpool 3-1 in Kiev last season.
John Charles in his pomp had a better goals per game ratio for Leeds United, Juventus and Wales, was never booked and was world class at both centre forward and centre back. Ryan Giggs - now Bale's manager with Wales - has two Champions League winner's medals, an incredible 13 league titles and four FA Cups. Both men were proven match-winners.
Bale is also a game-changer, a player who inspires team-mates to raise their level, a scorer of goals both spectacular and in volume. And he is not finished yet.
Billy Boston
In the middle of Wigan and outside Wembley Stadium stand statues of Billy Boston, the winger who broke both records and barriers in rugby league.
Born in Cardiff in 1934, Boston - whose father was from Sierra Leone and mother from Ireland - grew up playing union, but came to the attention of rugby league clubs while on national service in the north of England.
Overlooked by his home-town club - although he did play for Neath and Pontypridd - the then 19-year-old joined Wigan in 1953 and would play for them for the next 15 years.
Boston's scoring ratio is extraordinary, racking up 478 tries in 487 games for Wigan and helping them win three Challenge Cups and the Championship.
Despite having played just a handful of games in league, Boston was picked for the 1954 Great Britain side that went to Australia and New Zealand, becoming the first black British player to tour down under.
Boston would go on to score 24 tries in 31 appearances for Great Britain and was part of the side that won the 1960 World Cup, scoring a try in the final as they beat Australia 10-3 at Odsal Stadium in Bradford.
Jim Sullivan, another Cardiff boy who went north, made a record 774 appearances for Wigan and the full-back scored 83 tries and 2317 goals in a 25-year career.
But Boston just gets the nod for his incredible try scoring, side-stepping both defenders and prejudice along the way.
Joe Calzaghe
Few boxers are able to go through their professional career unbeaten and when Calzaghe hung up his gloves in 2009 with a perfect 46-0 record, he joined fighting legends such as Rocky Marciano and Floyd Mayweather Jr as an undefeated world champion.
Trained by his father, Enzo, in Newbridge, Calzaghe turned pro in 1993 and made his debut at Cardiff Arms Park on the Lennox Lewis vs Frank Bruno undercard.
He beat Paul Hanlon within a round and would go on to stop 21 of his first 22 opponents, including an eight-round win over the previously unbeaten Stephen Wilson for the vacant British super-middleweight title in 1995.
Two years later Calzaghe, then aged 25, took his first world title, beating British boxing legend and former world champion Chris Eubank over 12 thrilling, gruelling rounds for the vacant WBO super-middleweight belt.
The Welshman would hold that title for the next decade, dismantling IBF champion Jeff Lacy in 2006 and then also claiming the WBA and WBC belts by beating Mikkel Kessler, handing the Dane his first defeat in one of the great title fights.
Calzaghe ended his career with two big-money fights in America, moving up to light-heavyweight and out-pointing legends Bernard Hopkins and Roy Jones Jr.
Wales has produced talents such as Jim Driscoll, Freddie Welsh and Howard Winstone, but flyweight Jimmy Wilde could easily have got the nod as Wales' greatest boxer.
The 'Tylorstown Terror', born in 1892, fought professionally an incredible 141 times, winning 132 of those with 99 by knock-out. World titles as we know them now did not exist at the time, but Wilde was recognised as the world champion.
But unbeaten Calzaghe edges a split decision: WBO, IBF, WBA, WBC and Ring champion over two weights, able to out-work, out-box or out-last opponents, the heart to go toe-to-toe when he had to, and overcoming fragile fists to sometimes literally beat opponents one-handed when injury struck mid-fight.
Sir Gareth Edwards
The claim to be Wales' greatest rugby union player is helped when you are the scorer of 'that try', the 1973 touch down for the Barbarians against New Zealand regarded as the best of all time.
But Sir Gareth Edwards' career was so much more than that one, famous moment, even though it beautifully demonstrates the talent of the scrum-half who played all his senior club rugby for Cardiff RFC.
Wales could have been accused of staging an April Fools' joke when they took a gamble on an untried 19-year-old for the Five Nations match on 1 April 1967 against France in Paris. The visitors lost 20-14 while France went on to win the championship.
But having made his Test debut, Edwards would play in 53 successive games for Wales until retiring in 1978, never falling foul of fitness or form. In that 11-year period he scored 20 tries for his country and helped them secure three Grand Slams, captaining them 13 times.
In tandem at half-back with first Barry John and then Phil Bennett, two of Wales' finest fly-halves, Edwards still dazzled with his delivery, vision, tactical kicking and raw speed.
When the British and Irish Lions assembled their squads for tours to New Zealand in 1971 and South Africa in 1974, there was no other choice but Wales' first choice scrum-half to wear the nine shirt. Edwards was surrounded by many other greats of the game, but he was a keystone of two famous series wins.
Wales' record try scorer Shane Williams must be considered, crossing 58 times - 18 clear of anyone else to wear the red shirt - which also puts him fourth on the world all-time list. The 5ft 7in former Osprey managed that despite playing in an era when his rival wings were usually the size of the locks of Edwards' day.
But Edwards was untouchable in his position for the best part of a decade and is arguably not just the best scrum-half Wales and Britain has ever produced, but maybe also the best the world has ever seen.
Baroness Tanni Grey-Thompson
Baroness Tanni Grey-Thompson is one of the finest para-athletes of all time, matching medal success with longevity and dominating over quite different distances.
Her record just on the track is astounding, winning 11 gold medals over five Paralympic Games - 16 medals in all - and two World Championships.
Baroness Grey-Thompson served notice of her talent aged 15 when she raced for Wales at the Junior National Wheelchair Games and won the 100m.
At 19 she competed at her first Paralympics, taking bronze in the 400m at Seoul in 1988, then four years later in Barcelona she won four golds at 100m, 200m, 400m and 800m, plus a silver in the 4x100m.
A gold and three silvers followed in Atlanta 1996, four more golds at Sydney 2000, before signing off her Paralympic career with a further two golds at Athens in 2004.
That medal tally alone would have sealed Baroness Grey-Thompson's place as one of the greats, but she also set 30 world records including becoming the first female wheelchair athlete to break the one-minute mark over 400m.
Dominating over five different distances on the track was extraordinary enough, but in 1992 Baroness Grey-Thompson won the London Wheelchair Marathon - the first of six titles.
Paulo Radmilovic, who won four Olympic golds in swimming and water polo over five Olympics, Lynn Davies with long-jump gold at the 1964 Tokyo Games and 110m hurdler Colin Jackson, who won two World Championships and one World Indoor Championships, deserve an honourable mention.
Jackson never managed to win that elusive Olympic gold medal in four Games with silver his leading result at Seoul 1988.
The Cardiff hurdler though still managed to win three global titles and held the outdoor 110m record that he set in 1993 for 13 years before it was eventually broken in 2006.
But Baroness Grey-Thompson has a record of achievement that is unlikely to ever be matched, the life peer who is peerless.
Ray Reardon
Just as Ronnie O'Sullivan has dominated modern snooker, Stephen Hendry the 1990s and Steve Davis the '80s, Ray Reardon stood head and shoulders above the competition in the '70s when he won six World Championships, including four in succession from 1973-76.
The early promise he showed by winning successive Welsh amateur titles from 1950-1955 was nearly cut short when Reardon, who was working as a miner in his local pit in Tredegar, was hurt in a rock fall that trapped him for three hours.
A career switch to the police followed and Reardon seemed destined to remain a talented amateur player, but winning the English amateur title in 1964 sparked offers that saw him turn professional in 1967.
Snooker was at a low ebb, but the launch of the BBC's televised Pot Black annual tournament in 1969 helped a rise in popularity. Reardon won the inaugural title and became instantly recognisable - helped by his pronounced widow's peak and toothy grin that earned him the fond nickname 'Dracula'.
Reardon brought a light-hearted touch to the serious world of the green baize, chatting to opponents and joking with the crowd. He was ably supported by the likes of Alex Higgins and John Spencer, whose cue skills and personalities helped make snooker thrilling and entertaining once more.
After entering his first World Championship in 1969, Reardon won it the following year for the first time, before repeating that success three years later. From 1973 to 1976 he was unbeatable, adding a sixth and final World title in 1978.
Reardon's pin-point long potting, steady nerve and mastery of the tactical side saw him dominate snooker for the best part of a decade. O'Sullivan recognised those skills and approached Reardon as a mentor, the Welshman helping 'the Rocket' claim his second World Championship in 2004.
Mark Williams winning the World Championship this year for the third time, 15 years after his last success, was a sporting fairytale but no other Welsh player has dominated the game in the way that Reardon did.
Ian Woosnam
Golfer Ian Woosnam flourished despite competing against perhaps the most talented crop of golfers Europe has produced.
Along with Seve Ballesteros, Sir Nick Faldo, Bernhard Langer and Sandy Lyle, Woosnam was part of that group dubbed 'the Big Five', but at the height of his powers Woosnam spent 50 weeks as world number one.
Woosnam won his maiden title in 1982 at the Swiss Open Championship and has gone on to secure 46 victories worldwide - with 30 of those coming on the European and PGA Tours. His tally of professional golf tournament wins is more than any other male British golfer.
The pinnacle of Woosnam's career is unquestionably his 1991 Masters victory at Augusta National, earning him the right to wear the famous green winner's jacket forever more.
But 'Woosie' was also a team player and from 1983 to 1997 played in eight consecutive Ryder Cups. In 1987 he was part of Europe's team that famously won in Ohio - the first time the Americans had lost on home soil.
His affinity with the Ryder Cup continued in 2006, when the Welshman captained the European Ryder Cup team to an 18½-9½ victory over America at the K Club in Ireland.
Woosnam was finally inducted into the World Golf Hall of Fame in 2017 and continues to compete on the Seniors Tour.