UFC: Brett John's first defeat was 'bitter pill to swallow'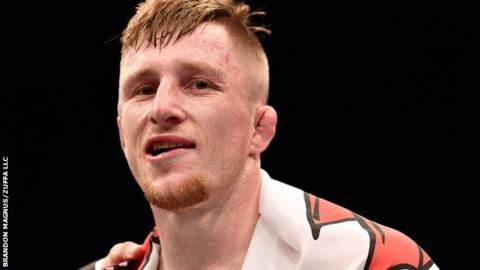 Brett Johns said his first UFC defeat was "a bitter pill to swallow", but he still has ambitions to win a title.
The 25-year-old Swansea fighter lost to American Aljamain Sterling in Atlantic City last Saturday - his first defeat in 16 UFC contests.
Johns says he had never felt physically fitter, but "mentally didn't get out of first gear", against the best opponent he has faced in his career to date.
"I'm that upset about the performance I'd fight this weekend," he said.
"People say you either win or learn, but for me personally, I knew what I did wrong and that kills me to this day."
Johns had worried that his weight was going to be a problem before the fight, but weighed in at 135.8 pounds on the Friday morning, before gaining another 23 pounds in the 30 hours before the fight.
'Different animal'
After his 12 weeks of training, he said he felt "brilliant" going into the fight, having run up to 10 miles on some days.
"But mentally I didn't feel like I was there, I reverted from my game plan and made little mistakes which ended up with big consequences," he said.
But Johns did take the positive that he was able to "hang at that level", against a top ten ranked fighter and is already planning his comeback.
"Even after the fight I felt like I lit something up there. I will be back, I'm looking to come back July time for UFC in Germany," he said.
"I feel like I'm going to be a different animal this time. I feel prepared.
"Now more than ever I'm more confident. Maybe not now or in the next two years, but eventually I'll lift that gold belt with UFC written across it."