Glamorgan Cricket: County given £2.5m not to stage Tests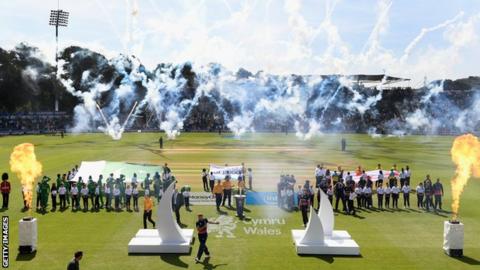 Glamorgan were given £2.5m compensation by the England and Wales Cricket Board in exchange for not applying to host Test matches between 2020 and 2024.
The county announced the deal ahead of their latest accounts which revealed pre-tax profits of more than £4m.
The remaining £1.6m included profits from hosting four matches in the high profile 2017 Champions Trophy.
Last year's profit helped reduce the club's net debt from £15.1m to £2.5m.
In February 2018, Glamorgan were awarded eight days of limited-overs internationals in the latest period of major matches decided by the ECB.
Glamorgan did not apply for Test matches in return for the financial reward.
They will instead host five T20 internationals and three one-day matches between 2020 and 2024.
No Tests will be played in Wales in that period with five-day matches restricted to the traditional venues of Lord's, The Oval, Edgbaston, Trent Bridge, Old Trafford and Headingley.
Glamorgan say they will repay the £2.5m if they apply for Test matches after 2024.