Geraint Thomas' view cycling should scrap TUEs 'extremely short-sighted'
By Ceri Coleman-Phillips
BBC Wales Sport
Last updated on .From the section Wales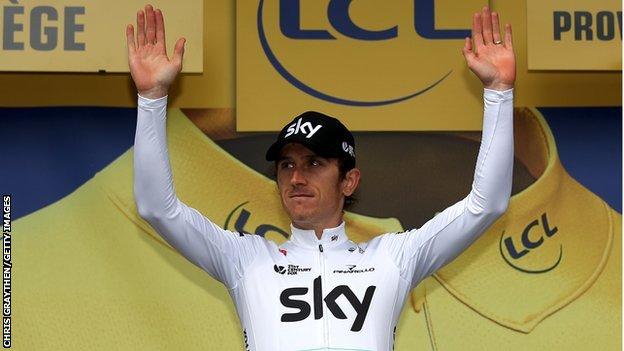 Team Sky rider Geraint Thomas' view that therapeutic use exemptions (TUEs) should be scrapped in cycling has been described as "extremely short-sighted".
Phil Southerland - who founded Team Novo Nordisk, the world's first all-diabetic professional cycling team - said he "fully disagreed" with Thomas.
All of Team Novo Nordisk's riders race with TUEs for insulin.
Southerland said it was "sad to read yet another high-profile figure lacking the proper knowledge on the subject."
Welshman Thomas was speaking to BBC Wales Sport after an MPs' report said Team Sky "crossed an ethical line" by using drugs allowed under anti-doping rules to enhance performance instead of just for medical purposes.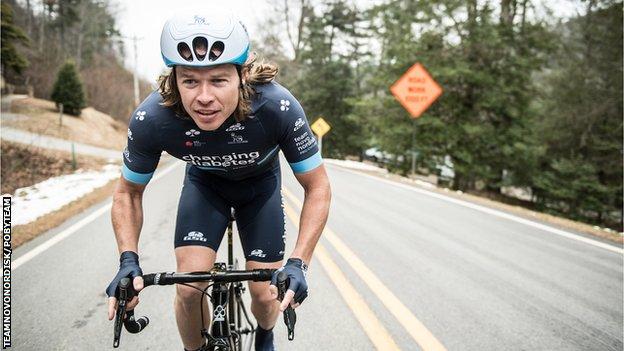 Thomas said he had never used a TUE and it "would be a lot simpler just to get rid of them".
"If someone's had a TUE, it's the opposite of doping. They've had the go-ahead from the powers that be to use that substance," he said.
"But this is what's bringing up the whole ethical debate, so in my eyes it would just be easier to get rid of them.
"In my eyes, if you suffer so severely from asthma or allergies that over-the-counter medications, or medications that don't require TUEs such as salbutamol can't control, it's unfortunate but maybe your body isn't built for the rigours of professional sport".
What are therapeutic use exemptions?
A TUE allows an athlete, for medical reasons, to take a prescribed substance or undergo treatment that is otherwise prohibited.
British athletes must contact their national governing body or follow UK Anti-Doping guidance before applying for a TUE.
There are strict criteria for one to be granted:
The athlete would suffer significant health problems without taking the substance.

It would not be significantly performance-enhancing

There is no reasonable therapeutic alternative to its use

The need to use it is not due to prior use without a TUE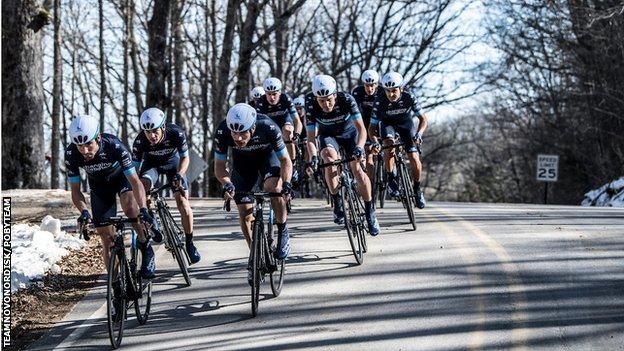 Southerland, a type one diabetic, said he could see Thomas' reasoning "due to the current turmoil around Team Sky" but he "completely disagreed with his viewpoint".
"As a 12-year-old, if I hadn't been able to dream about racing my bike, I'm not sure what my life would've looked like," said the American.
"The bike allowed me to dream big and I've been trying to pay this message forward for my entire life."
He said there is a need for TUEs in cycling to treat an illness or a sickness, but they should "never been used to improve performance or even to push a grey area".
Team Novo Nordisk race on the International Cycling Union (UCI) Professional Continental tour, and compete in major professional races around the world.
Its sixteen professional riders all have type one diabetes and need insulin injections to survive.
But insulin is on the prohibited substance list because athletes who do not have diabetes have abused it in the past as it can improve recovery and performance.
'Without it, we die'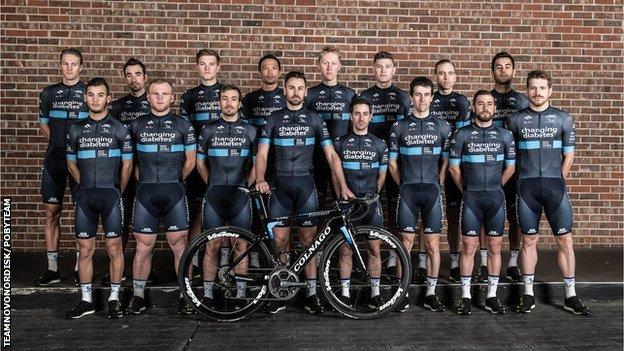 Sam Brand is Team Novo Nordisk's only British rider.
The 27-year-old, from the Isle of Man, said: "We are simply taking a substance that our bodies no longer produce. This is a substance that every other athlete I am racing against is naturally producing.
"We only take insulin to bring ourselves up to a level playing ground... without it, we die."
Brand said it was easy for Thomas to say TUEs should be scrapped, but a "blanket removal" was not the answer.
"It highlights the lack of understanding behind a valid TUE. We should be calling for the removal and eradication of the abuse and grey area," he said.
Setting the record straight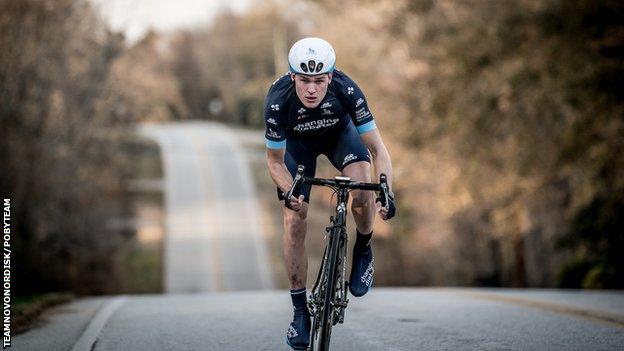 Southerland said since Team Novo Nordisk's inception eight years ago, they have always been "proud and thankful" they race with type one diabetes and TUEs.
"We are eager to be a part of this conversation and want to set the record straight by showing the valid and positive side of TUE usage," he said.
But he said the system was open for abuse and they want to "eliminate the grey area".
"Anyone using a TUE for marginal gains, performance-enhancement reasons, or pushing the limits into the grey area creates a huge negative perception around sport and can damage the reputation of the athletes who have a vital need for a long-term TUE.
"The good news is that thanks to all the attention this grey area is garnering because of the Team Sky conversation, I feel we can finally and quickly move towards a solution.
"The system needs to be more black and white, and I'm sure Sky would appreciate resolution on this as much as we would."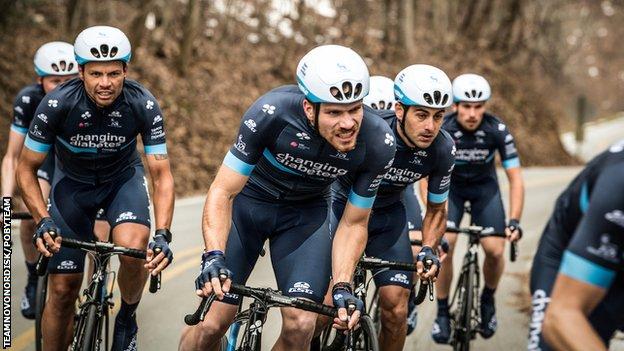 Southerland said the solution is not about eliminating TUEs, but getting "consistency".
"The process to apply and gain approval for a TUE is never simple, easy or straightforward," he said.
Brand said it took him "months of deliberation, letters and tests to prove he had type one diabetes".
Southerland said they need a "consistent and fair process that's applied (potentially by a medical board), as well as reviews... this hopefully would eliminate the problems, bureaucracy and knee-jerk reactions calling for the end to all TUEs".
Brand added a lot of TUEs are issued as emergencies during races, and these "should at least be as challenging to receive" as his was.
"I believe a change to that system is that if you need an emergency TUE in order to recover during a race you cannot continue that race," added Brand.
"Another option would be to at least have more investigation and make it more challenging to hand out an emergency TUE.
"Fundamentally, the system needs to be tougher, tighter and more ridged."