Para-athlete Aled Sion Davies opens up on mental health battle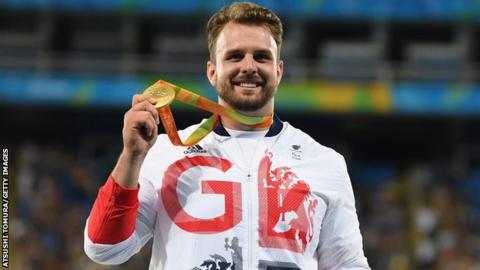 Aled Sion Davies returned from Rio 2016 on cloud nine. He was a double Paralympic and three-time double world champion, but his biggest battle was yet to come - his mental health.
He touched down in the UK on the British team's gold-nosed plane into a media frenzy, with fans lining up to congratulate him and the other athletes on their achievements.
"We were there for half a day then finally my mum and dad picked me up and drove me back to my house," he said.
"I remember just sitting on my sofa, putting my bags in the kitchen to do some washing and just thinking 'that's it'... that was the start of a bad time, I kind of locked myself away and went into a state of depression."
The 26-year-old from Bridgend spoke publicly about his depression for the first time on BBC Radio Wales' The Friday Night Social.
Having always been a "happy chap", he said he never saw it coming. "I didn't talk about it, I just felt like 'oh I'm a bit down, it's just a comedown'.
"When you come back from the games you have your post-comp blues. You've been living in a village with all of your mates, competing and winning, you've been in dreamland.
"It was really weird because I was on top of the world in terms of I had won every accolade, I had great sponsors, my personal life was great but I didn't understand why I was so down.
"There was something I was looking for but I didn't know what."
Davies said the worst part was that he could not find a reason or understand why his mental health was deteriorating.
It would prove to be a "tough run up" to the 2017 World Championships in London, where he would go on to win gold medals in the discus and shot put.
He said he was lucky in that he had been training so long that he could almost go into autopilot.
"I don't have many memories of that time, I just remember getting up, eating breakfast, going to the track, doing my training, coming home, eating, resting and going back to the track ... I felt like it was groundhog day."
He even pondered quitting athletics all together during this time.
He said he felt his lowest at the start of 2017 and that his coach was genuinely worried about him. He said he would get up in the middle of the night for a glass of water and end up breaking down in front of the mirror.
But he was able to put on a brave face in public.
"I was going out to do talks and motivational speaking, and everyone's like 'you've really got this spot on', but I'd get back in my car and start driving home and 'click' I'd be a different person.
"I felt like I was playing characters in my own life just to get by instead of addressing the source of it all."
Road to recovery
Davies said he had been lucky in having a lot of people around him and that he feels like he is "coming out the other end now".
But the journey has been a difficult one.
After seeking professional help, he said: "I feel like I am getting a lot better and dealing with things in a much healthier way.
"It has opened up my mind to mental health and I'm all for raising awareness of it now.
"I can't stress enough how important it is to talk to people. It's okay to talk, you're not weak.
"I was like 'I'm Aled Sion Davies, how can he be someone who is so mentally weak?' I'm a 6 foot 20 stone shot putter but I've had my moments where I've been crying."
So what's next for Davies, who has a haul of 12 Paralympic, World and European Championship gold medals?
He could just set his sights on the 2020 Paralympic Games in Tokyo, but that wouldn't be his style. Instead he has a burning ambition to be the first para-thrower to compete in an able-bodied major.
He took a step towards that dream at the British Athletics Indoor Championships in Birmingham earlier this month, where he not only made the final of the shot put competition, but finished sixth after throwing a lifetime best.
"It was good to be treated like everyone else with no spotlight on me as the favourite," he said.
He now hopes to compete in the 2022 Commonwealth Games in Birmingham.
"I don't think there will be anything funnier than making a Commonwealth final and getting beaten by a guy who can only use one leg," he joked.
On a more serious note, he said: "I want to change the world in terms of its view of para sport, and I want to show everyone that if you work extremely hard, no matter what barrier is in place, you can make the highest level".