Jackson Page: Teenager's 'relief' at Welsh Open entry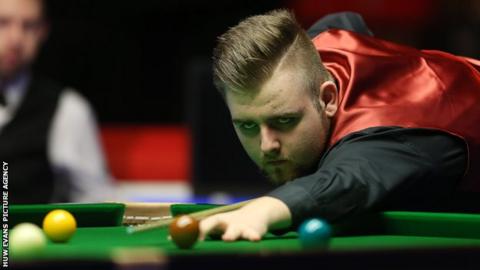 Welsh teenager Jackson Page is "very happy" after earning a late call-up to the Welsh Open, which starts on Monday.
Page had a remarkable run to the last 32 at last year's tournament, making his professional debut aged 15 as a wildcard while still at school.
The now 16-year-old initially missed out on a wildcard on this occasion but has since qualified as a replacement for Joe Swail, who has pulled out because of a family illness.
"I'm really relieved," said Page.
"After doing pretty well last year I would have been gutted not to go back this year. I'm very happy."
Page, who had not even completed his GCSE's during last year's tournament, found himself in front of the television cameras at Cardiff's Motorpoint Arena, playing former world number one Judd Trump for a place in the last 16.
Having beaten Jason Weston and John Astley in the first and second rounds, Page attracted a big crowd; the locals curious to see if this improbably bearded schoolboy could continue his improbable run.
However, his match against Trump proved a bridge too far for the Welsh teenager who will seek to make a similar impression this year.
"It was great - it was mad really," said Page, recalling his efforts of 12-months ago.
"Everyone was messaging me saying 'well done' and I was on the news a lot!"
Page is hoping to make headlines again this year and will play against England's Sean O'Sullivan in the first round.
He will be aiming for a second win against O'Sullivan this season after beating him 5-2 in the qualifying rounds for the German Masters and believes he will feel at home in Cardiff.
"There will be a lot of support there from everyone who's Welsh, it'll be very comforting and it'll be a great atmosphere for me," he said.
I'm not one for feeling nervy and pressure when I'm out there. I just play snooker, so I'm looking forward to it."
Four-time champion Ronnie O'Sullivan and Mark Williams - the only home player to win the event in 1996 and 1999 - are among the favourites to lift the Ray Reardon Trophy.
Stuart Bingham is the defending champion and could face Page in the second round in Cardiff.
Former professional Darren Morgan, who was runner-up at the first Welsh Open in 1992, secured one wildcard by beating Page in the final of the Robert Harrhy Memorial tournament in Cwmbran in January.
Welsh amateur champion Rhydian Richards was given the other wildcard and will play against Morgan in a pre-qualifier on Monday.