UFC: Brett Johns hopes his 'book of tricks' can take him into top 10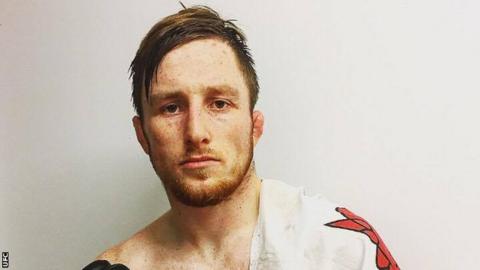 Welsh UFC fighter Brett Johns says he has a 'book of tricks' to help break into the bantamweight top 10 ranks.
Johns used a rare calf slicer submission against Joe Soto in his last fight, only the second time in UFC the move has been used to end a contest.
"By pulling moves off like the calf slicer I'm going to stand out and that's just something small in my book of tricks," said the 26-year-old.
Johns will be ranked ninth if he beats Aljamain Sterling in Atlantic City.
"I have been waiting my whole career to break into this top 10 and in April I have my chance," said the undefeated Johns.
"I'm fighting one of the best guys in the division in Aljamain Sterling and it's a tough test.
"We know that as a team and we are prepared and ready to go out there and put on a dominant performance."
'No easier'
American Sterling is currently ranked number nine and has a professional fighting record of 14 wins and three losses, however all three defeats have come in his last five fights.
However, Johns does not think the American is any easier an opponent because of his recent defeats.
"The guy has been up against the best in the world," said John, who is currently ranked 14 in the world.
"His three losses only came against people in the top 10 and he's coming off a loss in his last fight so he'll be as motivated as ever.
"He always comes prepared and he's always ready and in-shape.
"At the end of the day this is the biggest test of my career. Whether he's lost the last 20 fights or won them I can only focus on myself and focus on putting in a dominant performance."
'I have a name in my head but I won't jinx it'
Despite the certain challenge posed by Sterling in April, Johns told BBC Sport Wales he already has one eye on his next opponent.
"After this fight I have a name in my head, I'm not going to jinx myself because I need to beat Aljamain first, but it's a huge name for where I'm at," said Johns.
In a weight class dominated by Americans and Brazilians, Johns would become the only European in the top 10 with victory over Sterling.
Currently, four of the top 10 bantamweight fighters are from Brazil whilst the other six and current champion T.J. Dillashaw are all American.
"Currently the only guys in the top 10 in the division are American or Brazilian but I truly believe I should be there," said Johns.
"It's massive for Wales and it's good to lead the way. I had to do this from scratch and now people are starting to see the success.
"We are getting recognised for our hard work so it's amazing for the Welsh support. I'm so thankful for all the messages and support I receive."