Robbie Turley: Welsh boxer banned for doping violation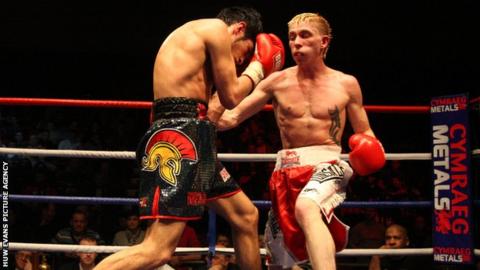 Welsh boxer Robbie Turley has been banned from all sport for a year following an anti-doping violation.
The 31-year old had banned substance furosemide in his system when he was tested following his Commonwealth title victory over Bobby Jenkinson in April.
At a National Anti-Doping Panel (NADP) hearing, Turley admitted the violation but insisted he took the substance by mistake.
The tribunal accepted Turley was at 'no significant fault or negligence'.
Turley provided evidence he took furosemide unwittingly, having intended to take ibuprofen on a visit to his grandfather.
His ban is backdated to the date of the fight, having taken the circumstances into account, meaning he can resume his career on 8 April 2018.
The boxer explained he intended to leave his grandparents' home to buy ibuprofen from a chemist, but was urged to stay and offered the medication from his grandparents' medicine box.
Turley's grandfather had been taking furosemide for high blood pressure. The boxer showed the tribunal evidence of the similarity between the packaging in the medicine box when stating his case.
UK Anti-doping chief executive Nicole Sapstead said: "It is every athlete's individual responsibility to monitor and control what substances enter their body.
"We hope cases such as Mr Turley's serve as a reminder to all other athletes to check what they are ingesting and ensure it is in line with the World Anti-Doping Agency prohibited list."
Turley was out of the sport for almost two years after his licence was withdrawn in 2012 because of the results of a brain scan.
His licence was renewed, however, after a lengthy battle involving lawyers and neurosurgeons, who cleared him for a return to the ring.