Commonwealth Games 2018: Megan Barker joins sister Elinor in Wales cycling team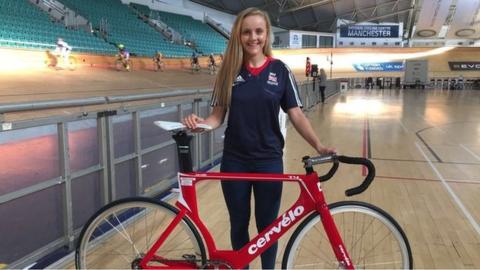 Welsh Cycling have added Megan Barker, Hayley Jones and Jessica Roberts to their team for the 2018 Gold Coast Commonwealth Games.
They will join 20 other Welsh cyclists at the Games, including Barker's Olympic gold medallist sister Elinor.
Matt Cosgrove, Performance Director for Welsh Cycling said the selections were "a result of all the hard work and dedication" put into training.
The Games take place on Australia's Gold Coast from 4 - 15 April.
"We have seen significant progression amongst the younger riders, who we hope Gold Coast 2018 will be the first of many Commonwealth Games for them," said Cosgrove.
"They have really stepped up over the last 12 months to earn a well-deserved spot on the team and eager to deliver great performances."
Team Wales cycling squad: James Ball (para), Elinor Barker, Megan Barker, Rhys Britton, Eleanor Coster, Scott Davies, Sam Harrison, Joe Holt, Ciara Horne, Rachel James, Hayley Jones, Dylan Kerfoot-Robson, Pete Kibble, Manon Lloyd, Zachery May, Jon Mould, Lewis Oliva, Daniel Pearson, Jessica Roberts, Dani Rowe, Luke Rowe, Ethan Vernon, Stephen Williams.