Ryan Giggs and Wales friendlies: What are the actual statistics
Last updated on .From the section Wales277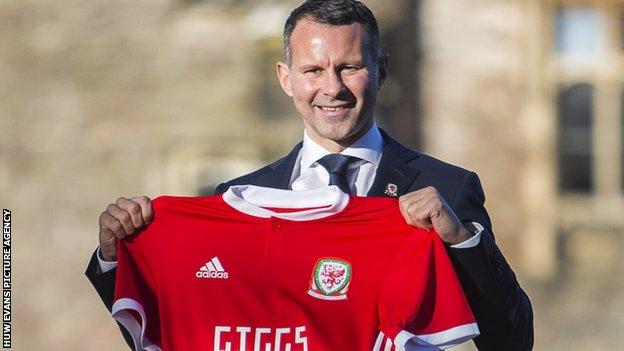 Ryan Giggs' appointment as the new Wales manager has divided fans.
Some fans have argued that Giggs' lack of appearances in friendly games as a player means he is not committed, and never has been committed, to his country.
BBC Wales has examined the stats and the history of Giggs' Wales career.
Did Giggs play friendlies?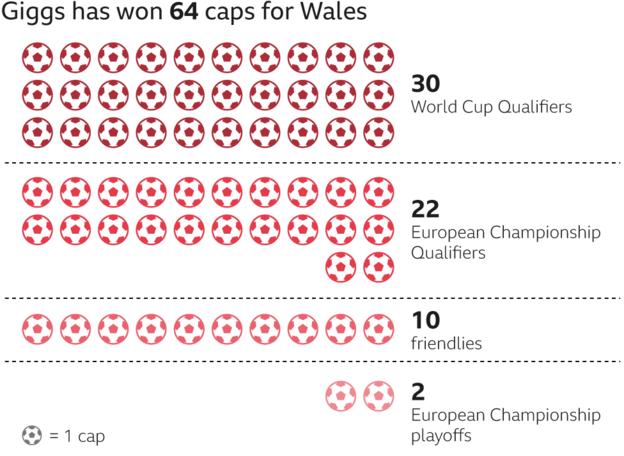 During his international playing career Giggs won 64 caps between his debut against Germany in 1991 European Championship qualifier and his final appearance in 2007.
In that time, Giggs missed 30 out of 40 possible friendlies, failing to make a single appearance in a friendly match from 1991 to 2000 - a total of 16 matches.
Former United team-mate Clayton Blackmore said Giggs' club manger Sir Alex Ferguson was responsible for the Welshman missing friendly games.
Blackmore said Giggs "didn't have much choice" when it came to playing in friendly matches.
Did Ferguson's plan work?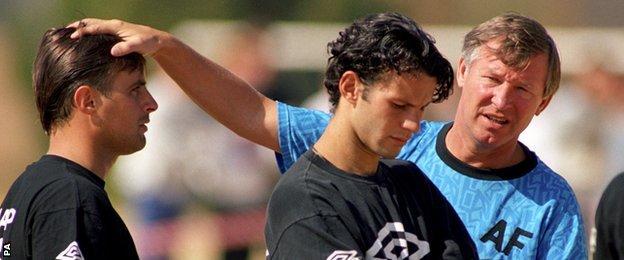 Of the 30 friendlies Giggs missed, 10 would not have interfered with his club career. However, 20 were played days before a Manchester United fixture.
Of those 20 games, Giggs featured in 85% of games for United, starting in 15 and making a further two appearances off the bench.
On only three occasions did Giggs not play in a Wales friendly game and then not play for Manchester United.
So was Ferguson right to stop Giggs from playing friendly games and did he have evidence to back up his protection?
Giggs only once played in a Wales friendly and then missed the following game for Manchester United. On that occasion, he was rested against West Ham before a Champions League game against Real Madrid the following Tuesday.
You can find the full list at the bottom of the page.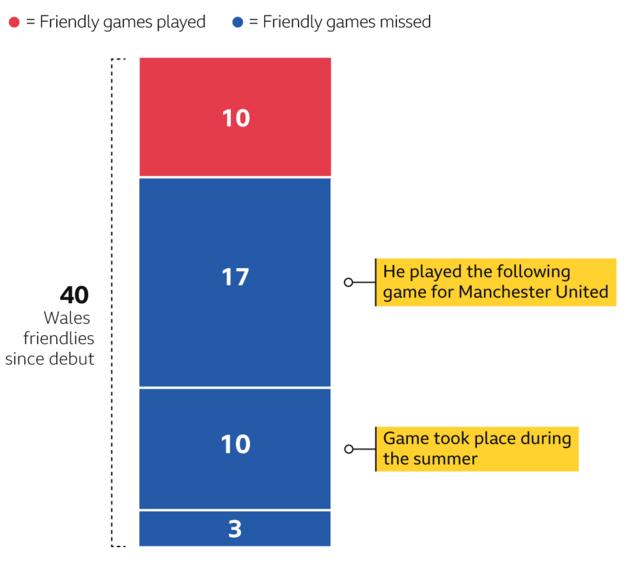 How does this compare?
Blackmore said that while Ferguson was keeping Giggs wrapped up in cotton wool, he and Mark Hughes had the chance to play in friendlies.
But former Stoke City manager Hughes made only eight more appearances for Wales than Giggs over a similar period of time.
Dean Saunders won 75 caps for Wales over 15 years between 1986 and 2001, including 27 friendlies - nine of which came during Giggs' years of absence between 1991 and 2000.
In total, 62% of Saunders' appearances for his country came in competitive games, compared to 84.4% for Giggs.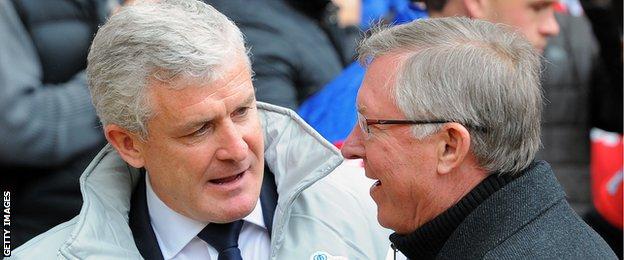 But how does Giggs compare to Wales' current superstar Gareth Bale.
Real Madrid forward Bale has played just 26 minutes of Wales' past seven friendly matches and 53 of his 68 caps have come in competitive games - 77.95%.
So, while Giggs' record of turning up for friendlies is not as impressive as some of his contemporaries, it is certainly comparable to that of Bale.
What about his competitive record?
Another accusation thrown at Giggs is he did not deliver enough for Wales in the biggest games, with arguments particularly that he did not score enough goals.
Giggs played 963 games for United, scoring 168 goals, meaning he averaged a goal for United every 5.7 games.
While for Wales he scored 12 in 64 appearances, meaning an average of a goal every 5.3 games - a goal record actually better for his country than club.
Giggs also produced some stand-out performances over the years, against Germany and Belgium at Cardiff Arms Park, and especially against Finland and Italy in games staged at the Millennium Stadium.
He also did so at a time when the common perception was that if you stop Giggs, you stop Wales and he was often marked by two or even three players.
So while Giggs undoubtedly missed a lot of friendly matches, his record is actually comparable to that of Bale and considering the 'Fergie factor' and club career Giggs had, not to mention the relative strength of his Wales era compared to now, is the criticism of him really merited?
Have your say in the comments section below.
Wales friendly matches during Ryan Giggs' international career

Opponent

Did Giggs play?

Date

Following United game

Republic of Ireland

No

February, 1992

Giggs started

Austria

No

April, 1992

Giggs started

Netherlands

No

May, 1992

No United game

Republic of Ireland

No

February, 1993

Giggs started

Norway

No

March, 1994

Giggs started

Sweden

No

April, 1994

Giggs a used substitute

Estonia

No

May, 1994

No United game

Italy

No

January, 1996

Giggs started

Switzerland

No

April, 1996

Giggs started

Republic of Ireland

No

February, 1997

Giggs started

Scotland

No

May, 1997

No United game

Brazil

No

November, 1997

Giggs started

Jamaica

No

March, 1998

No, he was injured

Malta

No

June, 1998

No United game

Tunisia

No

June, 1998

No United game

Qatar

No

February, 2000

Giggs started

Finland

Yes

March, 2000

No, he was rested

Brazil

No

May, 2000

No United game

Portugal

No

June, 2000

No United game

Argentina

Yes

February, 2001

Giggs started

Czech Republic

No

March, 2002

Giggs started

Germany

Yes

May, 2002

No United game

Croatia

No

August, 2002

Giggs started

Bosnia & Herzegovina

No

February, 2003

Giggs started

USA

No

May, 2003

No United game

Scotland

Yes

February, 2004

Giggs started

Hungary

No

March, 2004

Giggs started

Norway

No

May, 2004

No United game

Canada

Yes

May, 2004

No United game

Latvia

No

August, 2004

Giggs started

Hungary

No

February, 2005

Giggs a used substitute

Slovenia

No

August, 2005

No, he was injured

Cyprus

No

November, 2005

No, he was injured

Paraguay

Yes

March, 2006

Giggs started

Trinidad & Tobago

No

May, 2006

No United game

Bulgaria

Yes

August, 2006

Giggs started

Brazil

Yes

September, 2006

Giggs started

Liechtenstein

Yes

November, 2006

Giggs started

Northern Ireland

No (but travelled)

February, 2007

Giggs started

New Zealand

Yes

May, 2007

No United game