Cardiff Devils: New jersey backs LGBT support in Rainbow Laces week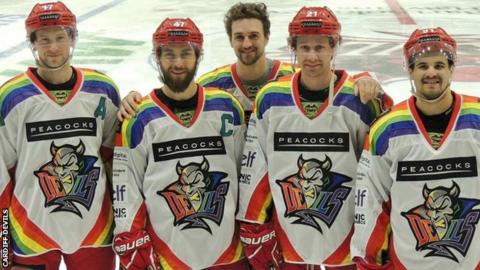 Cardiff Devils will wear a new kit on Sunday to show their support for lesbian, gay, bisexual and transgender [LGBT] people in sport.
Stonewall's Rainbow Laces campaign aims to tackle homophobic, biphobic and transphobic attitudes in sport.
The week-long campaign will see sports teams throughout the country wear rainbow laces in their footwear.
Devils will go a step further on 26 November with their Pride Jerseys when they play Belfast Giants in Cardiff.
The game at Ice Arena Wales also marks the official launch of the Devils' partnership with LGBT Sport Cymru.
The chair of LGBT Sport Cymru, Michelle Daltry, said: "We are delighted to be working in partnership with Cardiff Devils and a huge thank you to the club and membership for all their support.
"LGBT Sport Cymru are striving for a society where sexuality or gender identity is irrelevant to a person's engagement in sport of physical activity. To have clubs like the Cardiff Devils help to share this message provides such a huge opportunity for the LGBT community for which we are incredibly grateful."
Devils general manager Todd Kelman said: "As an organisation we are very proud to partner with LGBT Sport Cymru. Hockey is for everyone and we work hard to ensure everyone feels welcome at Ice Arena Wales on game night.
Research from insight agency ICM Unlimited for Stonewall shows:
72% of football fans have heard homophobic abuse
63% of people say more should be done to make LGBT people feel accepted in sport
55% of sports fans say they wish more sports players felt free to come out
63% of young people say that open LGBT players would have a positive impact on the culture of sport
"Last year's 'You Can Play' project was a good start but with this partnership we are laying the foundation for a long and successful partnership that promotes the key message that sport is for everyone."
National teams, leading clubs, top athletes, fans and grassroots players from across sport will show their support for LGBT people in sport during the campaign, which has the slogan 'Make Sport Everyone's Game' and runs from 24 November-3 December.
The Wales rugby union team, who play New Zealand on Saturday at the Principality Stadium, and the Wales Women football team, who face Kazakhstan in a World Cup qualifier at Cardiff City Stadium on Friday, also plan to promote the cause.
The Rainbow Laces campaign was launched by LGBT equality charity Stonewall in 2013.
Devils are not the first ice hockey team to publically show their support for the LGBT community, with Swedish sides Örebro and Kiruna IF long-time campaigners.
Other initiatives include last September's 'Come out for LGBT' which saw captains of Premier League football clubs sport rainbow armbands.
The same month Danish football players had their faces painted in rainbow colours to support LGBT equality, while USA football teams wore rainbow coloured numbers for their friendly international matches during LGBT Pride month last June.