World Taekwondo Grand Prix: Jade Jones and Bianca Walkden lead GB squad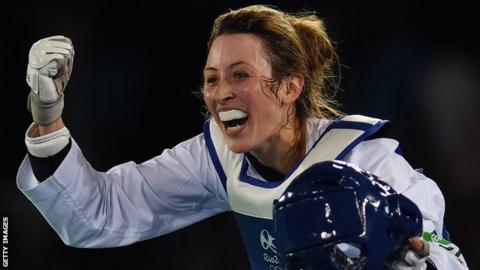 Jade Jones and Bianca Walkden will spearhead the Great Britain squad at the World Taekwondo Grand Prix in London on 20-22 October.
Double Olympic champion Jones and two-time world gold medallist Walkden will compete at the Copper Box Arena.
The GB squad also includes double Olympic medallist Lutalo Muhammad and current Grand Prix champion Mahama Cho.
Wales' European champion Lauren Williams has also been selected in the 16-strong squad.
Jones will return to London to compete for the first time since becoming Team GB's first Olympic taekwondo gold medallist five years ago.
"To be back fighting in London again will be just amazing," says Jones, who successfully defended her -57kg title at Rio 2016.
"It will always feel special. Winning my first Olympics at 19 was the best experience I have ever had in my life.
"I am sure it's going to be great competing in front of a home crowd again. There is such a good vibe and it's great to know people have your back.
"There are valuable ranking points for Tokyo 2020 and a bit of money is a bonus as well."
Team GB squad
Men
58kg: Max Cater, Hassan Haider
-68kg: Peter Longobardi-Radford, Christian McNeish, Bradly Sinden.
-80kg: Lutalo Muhammad, Damon Sansum.
80kg: Mahama Cho
Women
-49kg: Taylor Goodall, Charlie Maddock.
-57kg: Rachelle Booth, Jade Jones
-67kg: Lauren Williams
+67kg: Rebecca McGowan, Jade Slavin, Bianca Walkden.