Matthew Myers: Cardiff Devils star says camaraderie aided GB promotion
Last updated on .From the section Wales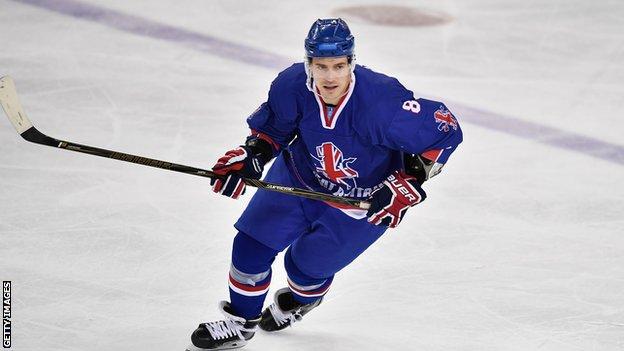 Great Britain and Cardiff Devils star Matthew Myers says the camaraderie around the national side helped them to achieve promotion.
Myers scored twice as Great Britain beat Japan to secure promotion to the World Championship Division 1 Group A in Belfast on Saturday.
"We come together for three weeks, not a long time but it's like we've been together all season," Myers said.
"We have a great laugh away from the rink in our down time and that helps."
The victory means Great Britain were promoted from the World Championship Division One, Group B for the first time since 1993.
The team have come agonisingly close to promotion in 2015 and 2016, something Myers said spurred them on this time around.
"The experience of losing in the last two years has helped us over the line this year and I do think we had a bit more depth," Myers continued.
"That's not to say the players and teams in the past haven't been good enough, but I think we've come a long way and used our experience a bit better this year to get across the line in the final game."